APAC IoT vSummit:
Tapping IoT for Post-Crisis Business Resilience [On-Demand]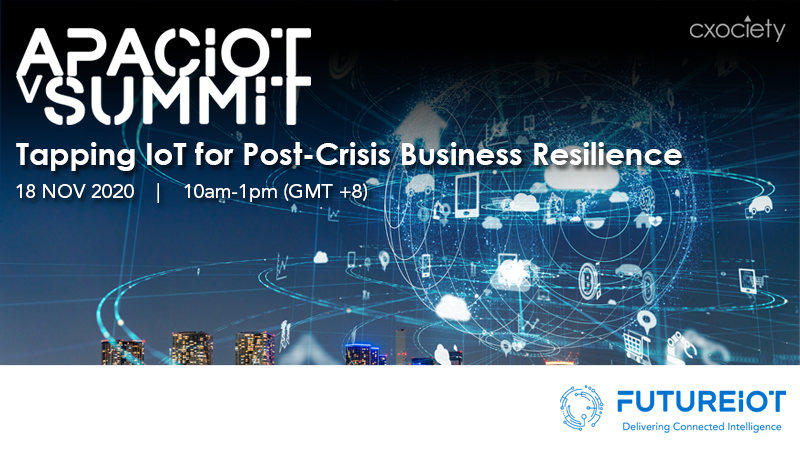 Management consultancy McKinsey predicts that, by 2025, the overall economic impact of the IoT could reach US$11.1 trillion, surpassing mobile Internet, automation of knowledge work and cloud technology.
The pandemic has seen businesses reset goal posts from growth to survival. But moving forward a key strategy is rebuilding business models focused on resilience, without losing the need to be agile and dynamic.
While IoT is already playing an enable role in industry, in business, in people's live today, the extent to which it will transform how businesses operate.
In the near-term organisations will need to focus on integrating a resilience-centric strategy into the supply chain, adopting a dynamic workplace skewed towards outcomes, and perhaps future-proofing OT-IT architecture.
The above presents a conundrum for the C-suite and operations coming out of the economic slump brought about by COVID-19. How do we re-architect our infrastructure to support a dynamic business model, being mindful to current investments, and conscious of what IoT can help realize when brought together with technologies by 5G, cobots, edge computing, augmented/virtual reality, artificial intelligence – all orchestrated under the banner of digital transformation. 
Welcome to Tapping IoT for Post-Crisis Business Resilience – where we bring together technology trends, business innovations and transformation made possible with IoT. Organised by CXOCIETY and FutureIoT the conference creates an open platform for industry practitioners to discuss, debate share experiences, expertise and insight, and come to a consensus on how best to use these technologies to create meaningful outcomes for organisations in both private and public sectors of Asia-Pacific.
Join us as we leave the world of concepts and theories and delve into the realities of converging technologies with real problems. We will tackle among a whole slew of real-world issues:
How IoT supports an experience-as-a-service ecosystem
Securing the connected ecosystem – from the factory to the home/person
Integrating 5G into the IoT architecture
Supercharging the supply chain with IoT – the right way
From connected devices to connected services – how to re-architect your use of IoT
Time

Agenda

10:00

Chairman's Welcome Remarks
Allan Tan, Group Editor-in-Chief, CXOCIETY

Customer Engagement

10:05

Keynote: Boosting Customer Engagement by Leveraging Intelligent IoT


The touch points in customer engagements
Automation of relevant touch points and other considerations
Delighting the customer interface
Technology and Transformation considerations

Oliver Tian, Vice Chairman, IARA; Past President, SIAA

10:25

Keynote: Creating Better Customer Experience with Enterprise IoT


Achieving event-driven innovation through IoT and data-first approach
Raising efficiencies through real-time digital strategies
Event Streams – the digital foundation of a Future-Ready business

Sumeet Puri, Chief Technology Solutions Officer, SOLACE CORPORATION

10:45

Panel Discussion: Driving Customer Engagement with IoT-Centered Business Models


How do you transform customer engagement to create new revenue streams?
Foundations to becoming a future-ready business
Conversational analytics and language processing
Moderator:
Achim Granzen, Principal Analyst, FORRESTER Panellists:
Dhaval Doshi, Head of Digital,GOLDS GYM INDIA
Alan Lee, R&D Director, IoT, HAM LET GROUP
Sumeet Puri, Chief Technology Solutions Officer, SOLACE CORPORATION


IoT in the Workplace

11:30

Chairman's Welcome Remarks
Allan Tan, Group Editor-in-Chief, CXOCIETY

11:35

Keynote: How IoT can Support Hybrid Workplace


How IoT impacts digital workplace
Efficiency in the midst of business and economic uncertainty
Enabling cybersecurity, energy conservation and coordinated operations

Sachin Mudholkar, CTO, SIESTA HOSPITALITY SERVICES LIMITED

11:55

Fireside Chat: Addressing Security and Privacy


Developing cybersecurity strategy as a competitive advantage
Aligning cybersecurity strategy with your threat profile
Managing a comprehensive security architecture

Interviewer:
Allan Tan, Group Editor-in-Chief, CXOCIETY Interviewee:
Albert Hui, VP, DEF CON Group HONG KONG; and Task Force Member on IT Security Evaluation (IoT), HONG KONG ACCREDITATION SERVICE

12:10

Case Study: Managing Return to Workplace with IoT


Post COVID-19 healthcare industry opportunities: incorporating risk management with hearables in workplace – HLT (ridesharing, delivery, corporate settings)
COVID-19 mental health management through exercise - HL2 (AI-DJ function)
All-in-one nature of the HLT

Patrick Wu, Director-Strategic Projects, ACTYWELL DIGITAL (HERA LETO)

12:20

Panel Discussion: Powering IoT in the Workplace with AI and Edge Computing


Advances in Edge, AI and hardware that impact IoT
Thriving in a fast-paced AI-powered IoT environment
Raising efficiencies with real-time applications

Moderator:
Pankaj Lunia, Supply Chain & B2B Collaboration Solutions Leader, IBM Panellists:
Rajan Upadhyay, Head of Digital Lab, Cyberjaya, DHL
Riza Alaudin Syah, CTO, EATEROO
Manuel San Miguel, CEO, IGNATICA
Atul Babu, SVP & Head of International Business, PCCW SOLUTIONS


12:55

Chairman's Closing
Allan Tan, Group Editor-in-Chief, CXOCIETY

13:00

CLOSE
* Agenda is subjected to changes
To watch this on-demand, please fill in the form below:
18 November 2020, Wednesday
10.00AM – 1:00PM (GMT +8)