VIRTUAL ROUNDTABLE
Architecting Your Kinetic Enterprise™ to be Built to Evolve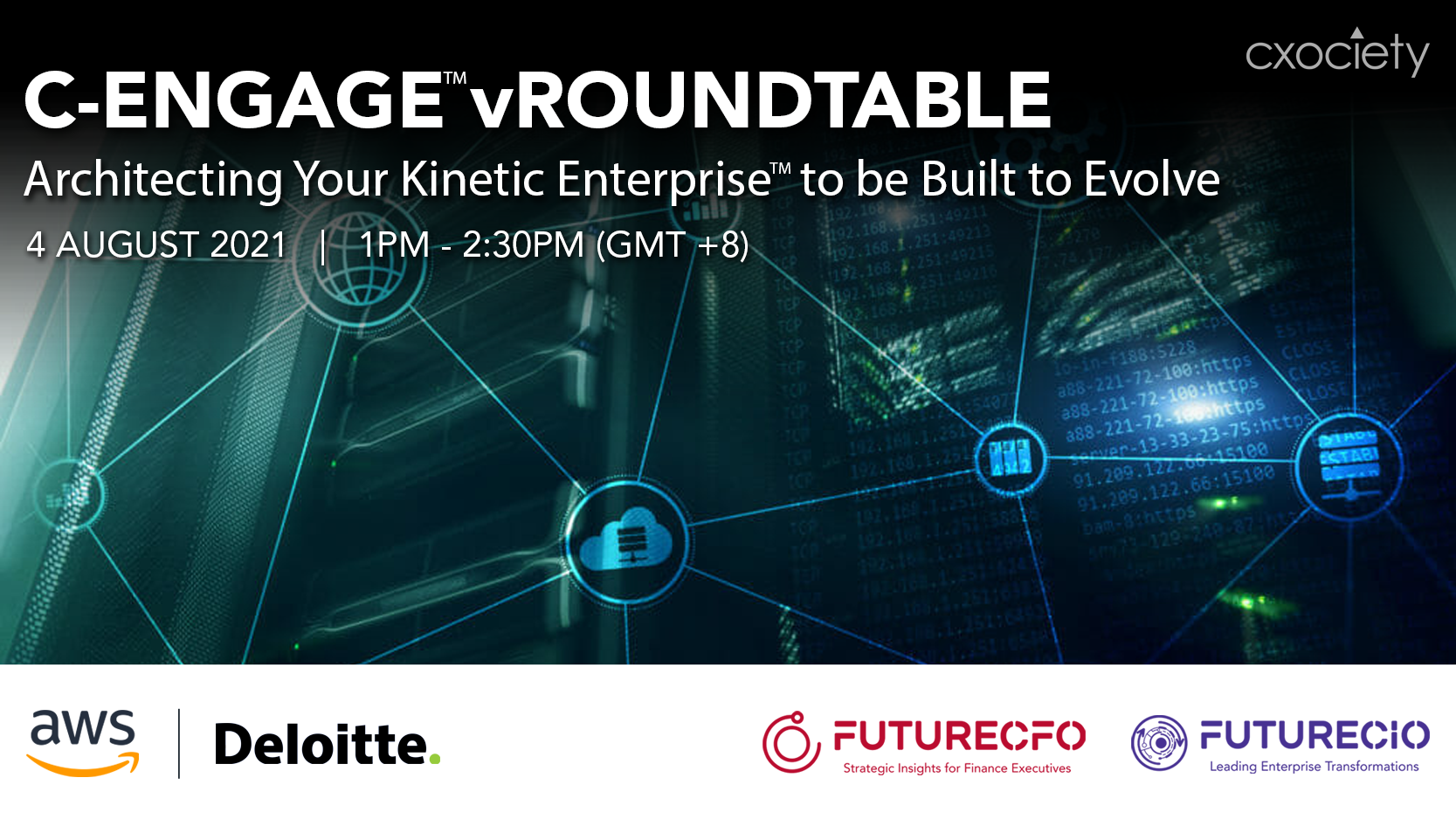 "Built to Evolve" is the new call-to-arms. It embodies the rallying cry of resilience that is now top of mind not only of business gurus and industry practitioners, but leaders across the enterprise.
To be resilient requires enterprises to innovate at the speed of ideas. They need to maximise opportunities for value. They need to move with purpose and make impact that matters.
We must evolve our organisation to one that is intelligent, responsive and cloud enabled. An enterprise with a clean core and an inclusive ecosystem of digital capabilities that do more than just react to change.
This 4th August 2021, FutureCIO in partnership with AWS and Deloitte, is organising the first of its kind digital event where the discussion is centred on the business imperative of helping delegates create blueprints to help them architect enterprises that are built to evolve.
Take part in this unique opportunity to not only listen and share ideas, but with the assistance of executives from Deloitte and AWS – design workable strategies you can take to your organisation to build operational blueprints that transform your businesses into agile engines of change.
Time

Agenda

12:45

VIRTUAL MEET & GREET


13:00

Opening by Moderator
Allan Tan, Group Editor-in-Chief, CXOCIETY

13:05

Welcome Address by Co-Host
Viney Hora, Executive Director, DELOITTE CONSULTING

13:15

Self-Introductions
by Participants Moderated Discussion

14:25

Closing Remarks
Viney Hora, Executive Director, DELOITTE CONSULTING

14:30

CLOSE
* Agenda is subjected to changes
To RSVP for this event, please fill in the form below:
01:00PM - 02:30PM (GMT +8)
- CIOs, CTOs, CDOs (Chief Digital Officers)
- CFOs
- COOs
- Chief Supply Chain Officers
- Chief Digital Transformation Officers / Head of Digital Transformation
- Head of IT
- Senior IT professionals