ASEAN Virtual CIO Exchange
Designing Your Digital Core – Pathways to Transformation Advantage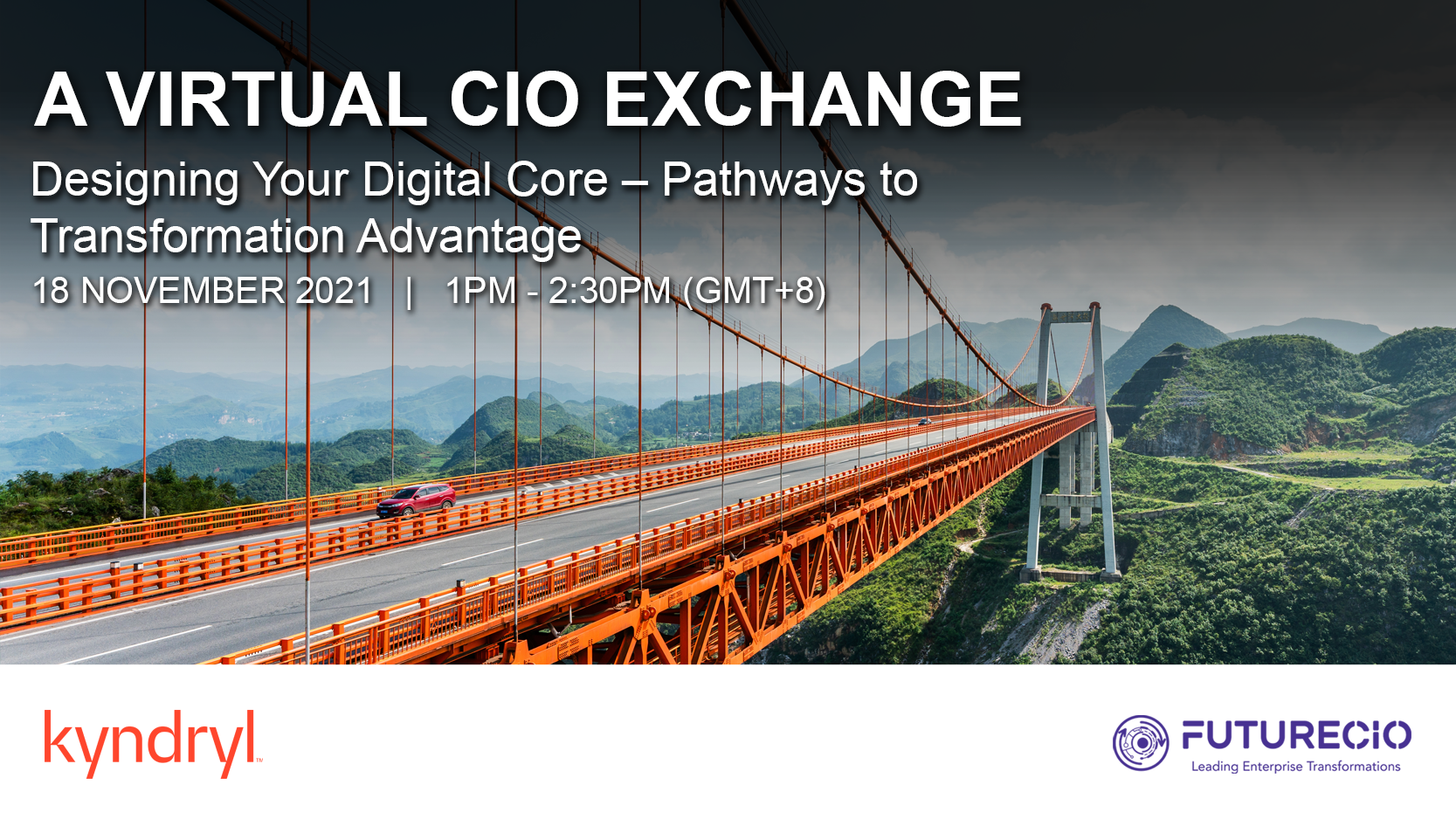 Digitalization that began before the pandemic, has accelerated as much as 50% in ASEAN markets over the last 18 months.
As you continue to differentiate your business through new forms of engaging customers and consumers, a plethora of data is being generated and harnessed for insights and focused conversations. As restrictions on mobility begin to ease, we anticipate pent-up demand to be unleashed. And, companies that have invested to innovate and mobilize will win a lion's share of these opportunities.

The CIO is a key enabler for the business to take advantage of this new generation of opportunities.  ASEAN businesses will require mature knowledge systems, robust technology infrastructure and expertise.
On 18 November 2021, we invite you to join us in engaging with ASEAN based CIOs and Kyndryl to discuss practical ways to seamlessly integrate digital touchpoints with operating models that optimize orchestration, increase flexibility, and mitigate risk – all in a hybrid multi-cloud environment built for speed, security and compliance.
We will cover:
Proven strategies for designing YOUR Digital Core
Understanding how digital technologies map to your transformation journey
Time

Agenda

13:00

Welcome Address
Allan Tan, Group Editor-in-Chief, CXOCIETY

13:05

Opening Remarks
Susan Follis, President, KYNDRYL ASEAN

13:10

Keynote: Transformation Opportunities in the Digital Economy
Charles Low, CTO, KYNDRYL ASEAN
Nathan McMahon, Enterprise Architect, KYNDRYL ASEAN

13:30

Panel Discussion: Designing the Digital Core Moderator:
Allan Tan, Group Editor-in-Chief, CXOCIETY Panelists:
Noel Mendoza, CTO, AIA PHILIPPINES
S.Shanmuganathan, SVP – Technology & Operations, CAGAMAS BERHAD
Mohd Suhaimi Yusof, Head of Technology Management, MALAYSIA AIRLINES
Frankie Ortega, CIO, UNITED LABORATORIES INC.

14:10

Q&A Session
Allan Tan, Group Editor-in-Chief, CXOCIETY

14:25

Closing Remarks
Susan Follis, President, KYNDRYL ASEAN

14:30

CLOSE
* Agenda is subjected to changes
To RSVP for this event, please fill in the form below:
18 November 2021, Thursday
- CIOs, CTOs
- IT Directors
- Head of IT / IT Infrastructure
- Senior IT/IT Infrastructure professionals