C-Engage™ Forum: Building Optimized IT Operations to Power Digital Innovation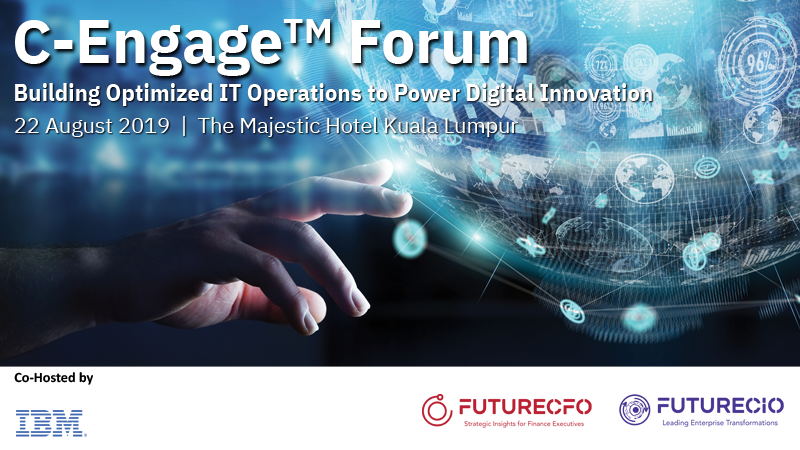 Businesses outsource all or parts of IT to reap the benefits such as reduced costs, streamlined operations, and increased flexibility for their business among other things. As technology accelerates, a prudent, if not insightful strategy, is to further extend this outsourcing arrangement to take advantage of next generation technologies, while making sure that organisations do not lose sight of the bigger picture – company business priorities.
On 22 August, IBM Malaysia and CXOCIETY will hold a by-invitation only forum to showcase some of the latest innovations in dealing with the complexity of managing so many support vendors. Attendees will also be given exclusive access to a Forrester Consulting Total Economic Impact study which reveals tools and best practices in harnessing next generation multivendor support services to yield as much as 25% over traditional outsourcing models.
The C-Engage Forum: Building optimized IT operations to power digital innovation facilitates the pairing of two powerful functions within the enterprise to enable true transformation success.
Time

Agenda

8:30

Registration & Breakfast

9:28

Kick Off by Chairperson


9:30

Welcome
Industry Landscape, Journey to Cloud, Support innovation, Introduction to IBM Technology Support Services

9:40

Simplify Tech Support with Automation and Insights Innovation

10:00

Executive Dialogue: What makes the world's most prominent Chief Maintenance Officer?
IBM is the largest 3rd party maintainer in the world, with the ability to provide support for over 30K multivendor hardware/ software globally. Hear how this has worked for our clients.

10:30

Coffee Break

10:45

CFO Track
Welcome: The role of a CFO in IT CIO Track Embracing Innovation to Drive Efficiency How IT support optimization can help fuel your journey to cloud.

10:50

CFO Track
Ensuring Innovation While Optimising Cost Efficiency CIO Track Introduction to Innovative Tools for Technology Support Harness advanced technologies to simplify your IT support management

11:10

CFO Track
Perspectives: The role of a CFO in IT
Roundtable discussion

12:00

The Total Economic Impact™ Of IBM Multivendor Support Services (MVS)
IBM commissioned Forrester Consulting to conduct a Total Economic Impact™ (TEI) study and examine the potential return on investment (ROI) enterprises may realize by deploying IBM Multivendor Support Services in their data center environment. As Enterprises adopt new technologies, their IT support model grows exponentially, as does the complexity of managing so many support vendors. According to Forrester, streamlining IT support with IBM can save clients as much as 25% over their existing approach to IT support management.Wondering how much you can potentially save across 3 years? Find out now!

12:30

Networking Lunch
* Agenda is subjected to changes
To RSVP for this event, please fill in the form below: