C-Engage vForum:
Risk management in the post-COVID digital era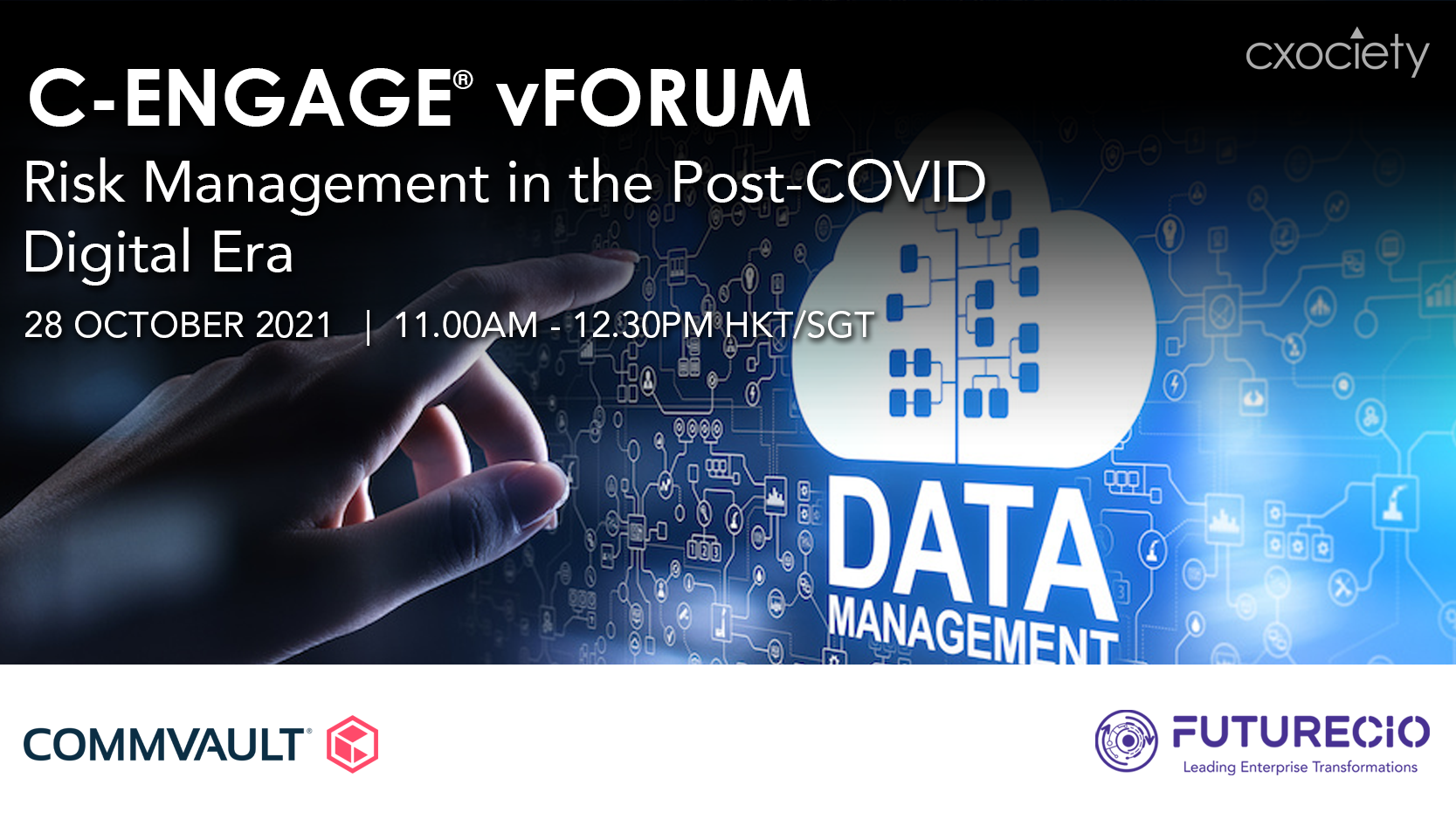 As enterprises scale digital business initiatives to leverage the massive growth in data, CIOs and infrastructure leaders will view their enterprise storage systems as critical, strategic assets. 
With organizations aggressively pursuing digital transformation and operational efficiencies, IT leaders will embrace advanced, disruptive software-defined solutions and cloud-based services. They must chart out a bold, proactive strategy to leverage storage as a competitive advantage. 
Gartner says future storage innovations will target infrastructure simplicity, automation, operationally resilient platforms, and flexible, cloud-based IT service models. But how do you take advantage of these new innovations while the addressing the reality of persistent cyber threats and evolving regulatory requirements?
Join us to discuss risk management strategies for hybrid enterprises at the upcoming virtual forum co-hosted by FutureCIO and the Commvault. 
At this invitation-only forum, senior business leaders will discuss how you can manage risk amid today's turbulent business environment. Reserve your seat today for this forward-thinking discussion.
Time

Agenda

11:00

Welcome + Housekeeping Data growth during COVID-19. Security threats is giving rise to calls for more stringent data governance policies.
The what, why and how of data management in a hybrid environment
Allan Tan, Group Editor-in-Chief, CXOCIETY

11:05

Opening Address Senior Executive, COMMVAULT

11:10

Fireside Chat: Resilience strategies for hybrid environments Ion Mudreac Director DevOps and Cloud Development, SINGTEL

11:25

Keynote: Data management in a "Cloud-First" strategy

11:40

Breakout Track 1 - Security & GovernanceTrack 2 - Data Management

12:10

Stump the ExpertModerator: Allan Tan, Group Editor-in-Chief, CXOCIETY

12:25

Wrap Up

12:30

Close
* Agenda is subject to changes
To register for this live event, please fill in the form below:
28 October 2021, Thursday
11:00AM – 12:30PM HKT / SGT

From Banking/Financial Services Sectors:
- CIOs
- CTOs
- CISOs
- Senior IT / Information Security professionals