C-Engage vForum:
Resilient Data Protection for the Data Everywhere Economy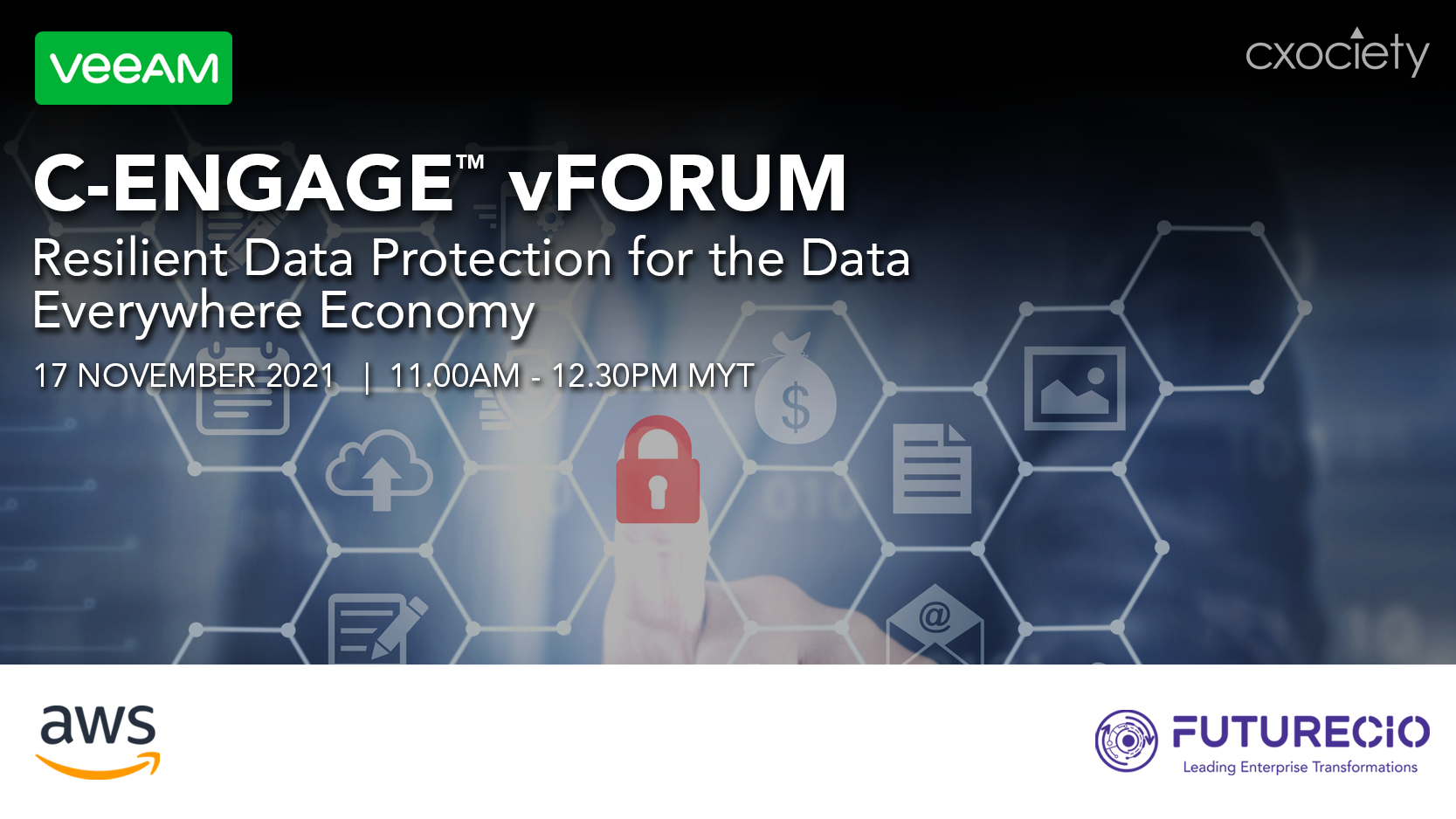 What does a data management strategy look like when the data centre is no longer the centre of gravity?
IDC says nearly 80% of enterprises are either actively using or planning for a hybrid infrastructure environment. The challenge for CIOs, CISOs and data protection officers is a lack of battle-tested experience and expertise when it comes to a holistic protection of data that sits across on-premises servers, cloud environments – private, public and at the edge – on end-user devices, IoT and Kubernetes.
What is needed is a data strategy that supports multi-cloud and distributed environments and is aligned to an enterprise's business strategy – one that considers the uncertain economic and operational environments.
Welcome to Resilient Data Protection for the Data Everywhere Economy, a virtual forum jointly organised by CXOCIETY and Veeam, where we cover:
Critical considerations for optimised data protection
Simplifying data strategies without sacrificing protection and usability
Architecting a data protection and governance strategy that is resilient to change
On 17th November, we invite you to join us as we offer you practical insights to help you architect your data protection strategy, that supports a data everywhere business and is resilient to change.
Time

Agenda

11:00

Welcome + Housekeeping Allan Tan, Group Editor-in-Chief, CXOCIETY

11:05

Opening Address Senior Executive, Veeam

11:10

Fireside Chat: Data protection in the data everywhere economy

11:25

Keynote: Presentation

Recovering from a ransomware attack using modern backup
Design a data protection strategy for on-premises and cloud IaaS
Boosting data resilience and compliance in a hybrid cloud

11:40

Keynote Presentation

How hybrid cloud can accelerate digital transformation
How to get the business value of distributed cloud
How distributed cloud fixes what hybrid cloud breaks

12:10

Panel Discussion & Q&A

12:25

Wrap Up

12:30

Close
* Agenda is subject to changes
To register for this live event, please fill in the form below:
17 November 2021, Wednesday
From Banking/Financial Services Sectors:
- CIOs
- CTOs
- CISOs
- Senior IT / Information Security professionals