CISO Breakfast Club:
Accelerating Secure Digital Transformation in Public Sector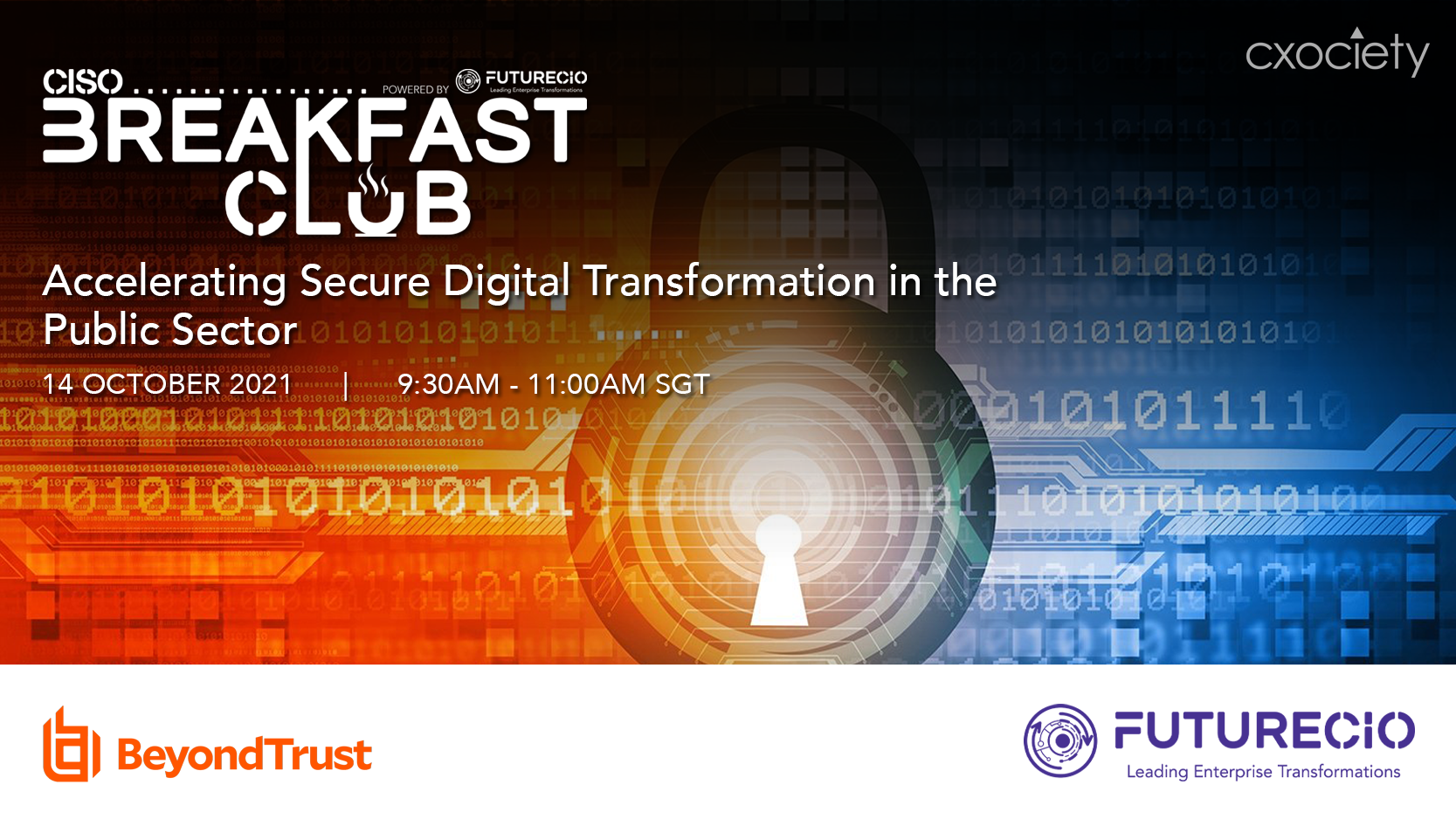 Digital remains a key pillar of the Singapore Government's public service transformation initiative. Set out in 2019, the Digital Government Blueprint (DGB) continues to provide direction for all government organisations in support of the country's Smart Nation ambitions.
In committing to making government services easy, seamless, and secure, it is up to the CIO and the IT team to architect and build systems and processes that would realise these promises. And to do so, during one of the longest-running disruptions in modern times – the pandemic.
This 14 October 2021, FutureCIO in partnership with BeyondTrust will delve into practical strategies and approaches to creating secure, accessible systems that facilitate productivity and encourage engagement.
Topics to be covered include:
Privilege Access Management (PAM) perceptions in government agencies
Endpoint security with air-gapping
Best practices in zero trust implementation
Government commercial cloud: what concerns?
Time

Agenda

09:30

Opening Remarks Allan Tan, Group Editor-in-Chief, CXOCIETY

09:35

Welcome Address Scott Hesford, Director of Solutions Engineering, Asia Pacific, BEYONDTRUST


09:45

Panel Discussion: Accelerating Secure Digital Transformation in Public Sector Moderator:
Alvin Rodrigues, Field Chief Security Officer, INFOBLOX Panelists:
Scott Hesford, Director of Solutions Engineering, Asia Pacific, BEYONDTRUST
Shoen Yih Yum, Director, Cyber Security Programme Centre, CYBER SECURITY AGENCY OF SINGAPORE
Yew Weng CHAN, Chief Information Security Officer, NATIONAL LIBRARY BOARD
Howie Lau, Managing Partner, Corporate Development & Partnerships, NCS

10:30

Closing Remarks Scott Hesford, Director of Solutions Engineering, Asia Pacific, BEYONDTRUST


10:45

End of Event
* Agenda is subjected to changes
To register for this live event, please fill in the form below:
14 October 2021, Thursday
From Government/Public Sectors:
- CIOs
- CTOs
- CISOs
- Senior IT / Information Security professionals