CISO Breakfast Club:
Turning Security into a Revenue Generator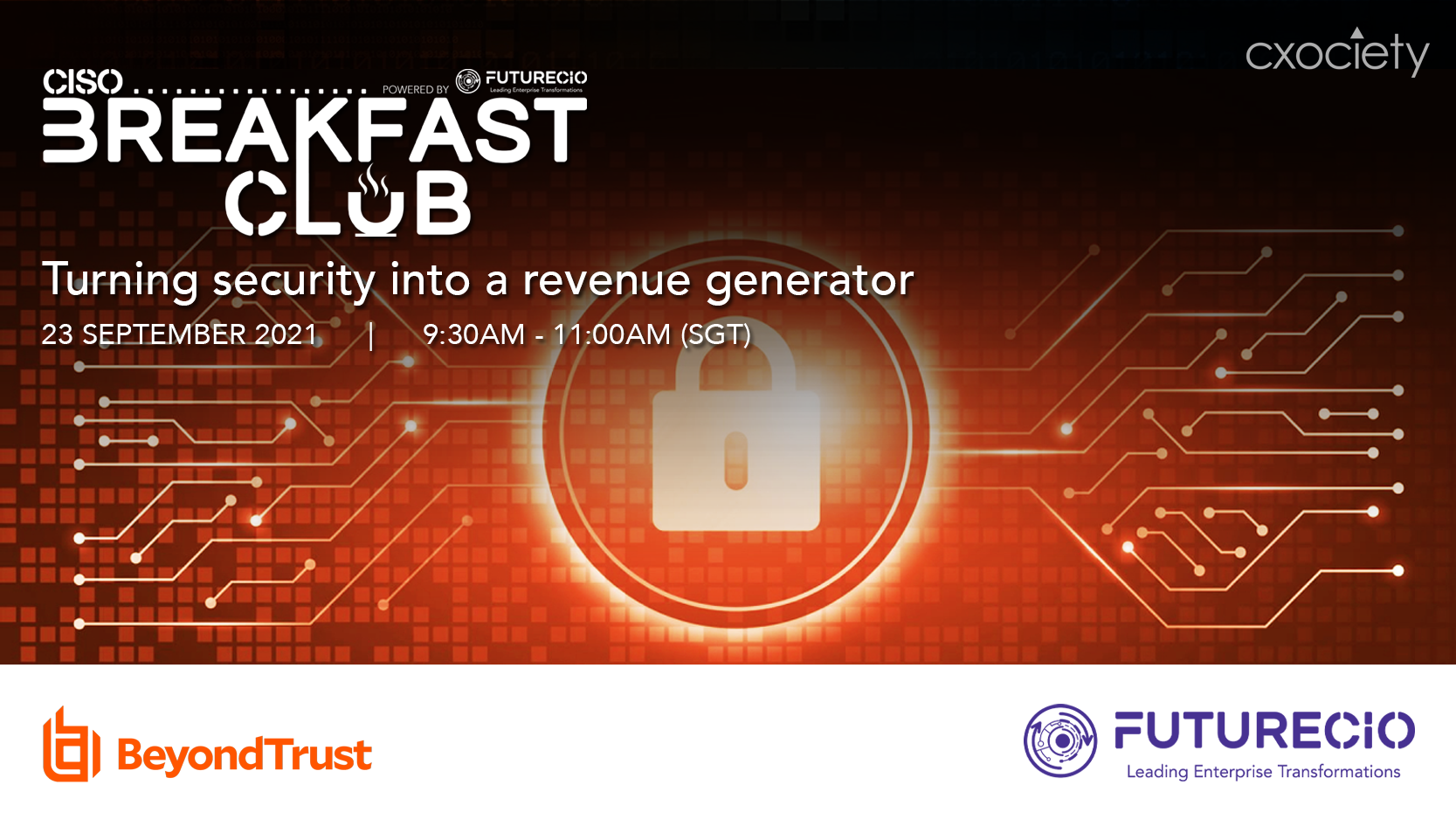 A recent report by VMware noted that 86% of cyberattacks in Singapore are directed at the financial services sector, with 38% noting the attacks have grown significantly more complex.
How does a sector not only recover from the worst disruption seen in modern times, but emerge responsive to hyper-transacting trends and hyper-digital customers? How does the CIO facilitate the remaking of business models that scale and able to withstand the growing cyber threats?
This 23 September 2021, FutureCIO in partnership with BeyondTrust, will host a lively discussion into practical strategies and approaches to creating secure, accessible systems that facilitate productivity and encourage engagement – all while adhering to evolve regulation and changing customer expectations.
Ransomware policies and concerns.
Ensure privacy and being open for business
MAS regulations & digital banking
What's crucial? Endpoint vs PAM vs UPM.
Facilitating the engagement is Raju Chellam, chief editor of the AI Ethics & Governance Body of Knowledge (AI E&G BoK), an initiative by the Singapore Computer Society (SCS) & the Infocomm Media Development Authority.
Time

Agenda

09:30

Moderator's Opening Remarks Raju Chellam, Chief Editor of the AI Ethics & Governance Body of Knowledge, SINGAPORE COMPUTER SOCIETY

09:35

Welcome Address Nick Turnbull, SVP, BEYONDTRUST

09:45

Panel Discussion: 2021 CIO Agenda: Seize This Opportunity for Digital Business Acceleration Moderator:
Raju Chellam, Chief Editor of the AI Ethics & Governance Body of Knowledge, SINGAPORE COMPUTER SOCIETY Panelists:
Scott Hesford, Director of Solutions Engineering, Asia Pacific, BEYONDTRUST
Neha Malhotra, VP - Cyber security (Global Program Manager for Attack Surface Management), CREDIT SUISSE
Sean Gunasekera, ASEAN Cyber Security Lead (FS), EY
Viren Mantri, Executive Director, Head of Information and Cyber Security, SC Ventures , STANDARD CHARTERED BANK

10:30

Closing Remarks Scott Hesford, Director of Solutions Engineering, Asia Pacific, BEYONDTRUST

10:45

End of Event
* Agenda is subjected to changes
To register for this live event, please fill in the form below:
23 September 2021, Thursday
From Banking/Financial Services Sectors:
- CIOs
- CTOs
- CISOs
- Senior IT / Information Security professionals