Digital Masterclass: Revolutionize IT Operations and Management with AI!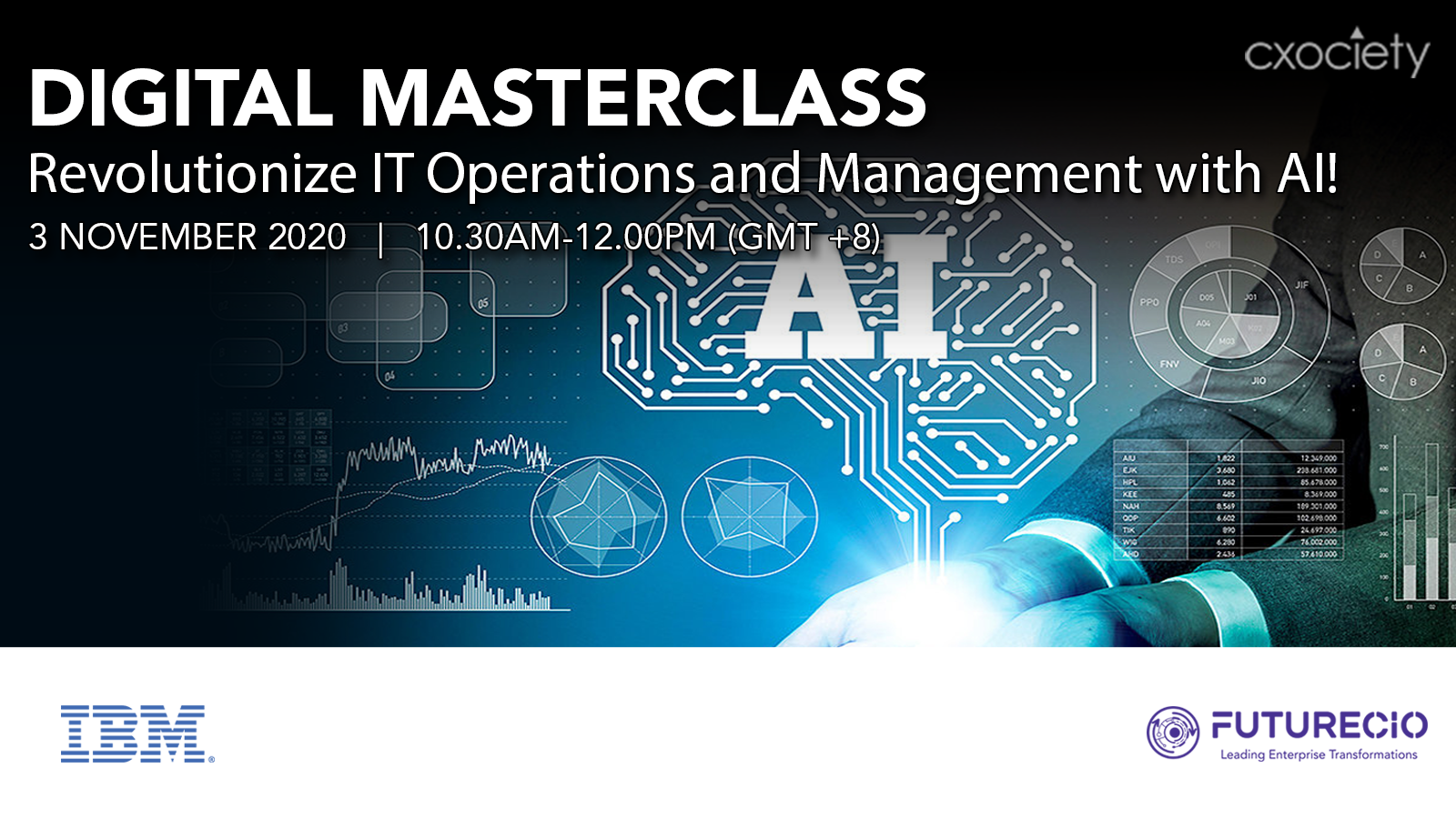 Business leaders are calling on the CIO to push the innovation envelope to meet changing customer demands and expectations. However, the need to manage multiple workloads across traditional IT and multiple cloud environments can complicate day-to-day IT operations, increase overhead costs and slowdown innovation efforts.
To the CIO and the IT team, the question becomes: how do you created an environment where innovation can thrive without dropping the ball on everything else?
THE ANSWER: AI Ops!
Artificial Intelligence (AI) has reached the point where it can be applied to aspects of information technology ("AIOps") , particularly, the IT infrastructure including the  data centre, the network, and business applications, to intelligently monitor and proactively identify areas of potential failure.
What this simply means is the ability for the CIO to redirect the limited, expensive IT resources to initiatives that will deliver more value to the business.
You are cordially invited to join us on 3 November 2020 for a Digital Masterclass on how to Revolutionize IT Operations and Management with AI! This masterclass is organized by CXOCIETY, in partnership with IBM, and will provide you with a first-hand experience of how AI can help keep your IT operations running.
IT Operations should not be the bottleneck that slows innovation. As the foundation of the most successful brands in the world, it is time we give it the boost it needs to do its job – and do it better than ever – so the business can innovate.
Time

Agenda

10:30

Introduction
Allan Tan, Group Editor-in-Chief, CXOCIETY

10:35

Top practices for managing a cloud environment
As you begin to plan your management approach to a hybrid and multi cloud environment you need to consider the needs of the constituents that you support. Ironically, all of your constituents have one similar overriding requirement: they want to have assurance that the services they need are predictable, secure, and can scale with demand. This session will share top imperatives for managing a cloud environment. Richard Wilkins, Distinguished Engineer, IBM Cloud Labs

10:55

Discussion on business challenges and real-life incidents Moderator:
Allan Tan, Group Editor-in-Chief, CXOCIETY

11:05

Unlock the power of AI for IT
AI continues to transform core business domains from Customer Service to Finance and Operations across a variety of industries. Businesses need AIOps capabilities to answer the growing demand for a platform that aggregates a variety of IT data including tickets and alerts. This session will explore how AIOps helps to Deploy advanced, explainable AI on an open platform to confidently assess, diagnose, and resolve incidents across mission-critical workloads. Bright Zheng, Watson AIOps Technical Leader, IBM ASEAN

11:25

Experience Incident Resolution
In a try-it-yourself module, see how Watson AIOps identifies and gathers signals across a variety of structured and unstructured data channels, including alerts, logs and ticket. Bright Zheng, Watson AIOps Technical Leader, IBM ASEAN

11:35

Self-Assessment: AI is shaping the future of IT. Are you ready?
To remain relevant, every business needs to begin thinking about how inefficiencies in their IT department are slowing down incident resolution and allowing predictable issues to occur within their IT infrastructure. Take 5 minutes to answer the questions, find out how your IT department stacks up, and get next steps to transform your business with AI. Richard Wilkins Distinguished Engineer, IBM Cloud Labs

11:45

Fireside chat with Guest Speakers


11:55

CLOSING REMARKS
Allan Tan, Group Editor-in-Chief, CXOCIETY

12:00

CLOSE
* Agenda is subjected to changes
To RSVP for this event, please fill in the form below:
10:30AM – 12:00PM (GMT +8)