Digital Masterclass: Unlock Cost-Saving by Maximizing the Value of Data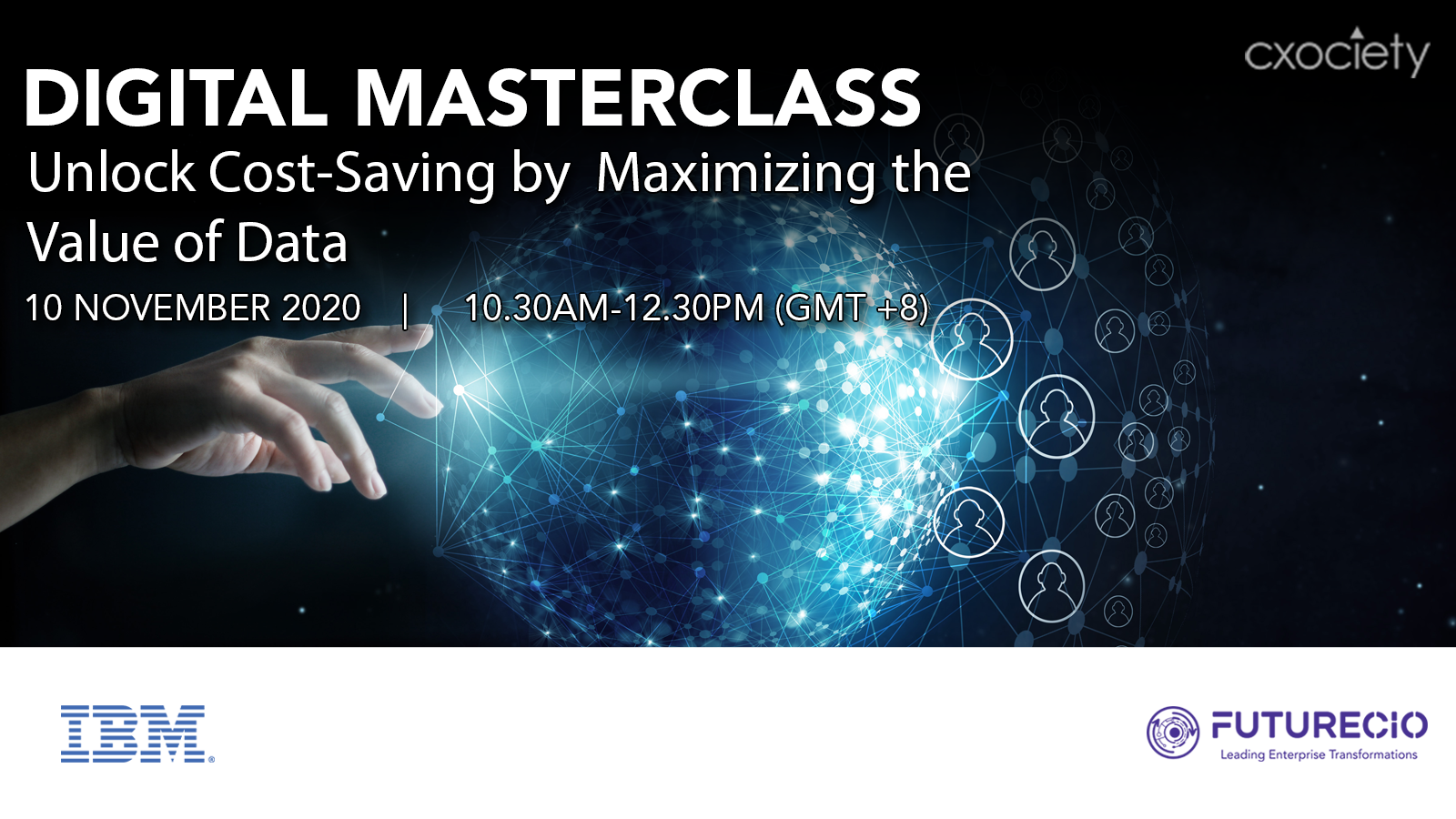 In these extremely challenging  times data and AI have never been more crucial. Whether looking to optimize efficiency and minimize costs or drive innovation to increase revenue, insights from data and AI provide the framework for continued competitive advantage. The reality however is that there can be no AI without IA (information architecture) and delivering secure access to clean, unbiased and trusted data is the foundation for any successful strategy.
As the speed of business increases and IT landscapes become more complex and distributed the need for this foundation to be flexible, adaptable and resilient becomes paramount. Leading companies are turning to modern, cloud-native platforms to deliver critical data and AI capabilities in the most cost effective way possible.
THE ANSWER
On 10 November 2020, you are cordially invited join the IBM  masterclass Unlock Cost-Savings by maximizing the value of data to deep dive into our prescriptive approach to successful AI and hear how our integrated data and AI platform is designed maximize the value of data and deliver cost savings by:
Pre-integrating a complete set of leading Data and AI capabilities within a single unified platform
Reducing data storage and movement expenses while ensuring self-service access to all enterprise data
Automating governance and security to reduce risk and help ensure compliance
Minimize infrastructure and maintenance costs while optimizing the performance of your existing environments with a modern cloud-native architecture.
Time

Agenda

10:30

Introduction
Allan Tan, Group Editor-in-Chief, CXOCIETY

10:35

Business Case for Investing in Data initiatives: Client Fireside Chat Guest Interviewee:
Keyur Shah, Senior Director Finance, FP&A COE, APAC, Johnson & Johnson

10:45

Value of data - A new dimension
Kitman Cheung, Chief Technology Officer, IBM Data & AI -Asia Pacific

11:00

Breakout: Brainstorming on Solutions

11:10

Discussion on Key Ideas
Allan Tan, Group Editor-in-Chief, CXOCIETY

Realizing value through a modern Enterprise Insights Platform

11:20

Part 1: Optimizing cost through an AI Data Lake
Bui Hung Le, ASEAN Big Data & Analytics Technical Sales (Analytics Platform), IBM

11:45

Part 2: Unpacking the value of Data Science
Derek Chan, Program Director AP/GCG/Japan, Data Science and AI Elite, IBM Cloud and Cognitive Software

12:00

Summary
Kitman Cheung, Chief Technology Officer, IBM Data & AI -Asia Pacific

12:10

Interactive Discussion
Allan Tan, Group Editor-in-Chief, CXOCIETY

12:25

Closing Remarks


12:30

CLOSE
* Agenda is subjected to changes
To RSVP for this event, please fill in the form below:
10 November 2020, Tuesday
10:30AM – 12:30PM (GMT +8)