Executive Luncheon: Creating a Sustainable, Intelligent RPA Strategy for Finance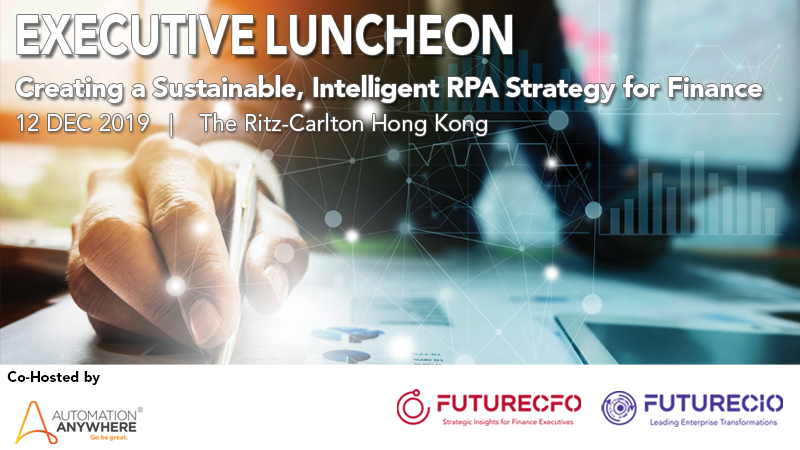 The Deloitte paper, The robots are ready. Are you?, revealed that 53% of the 400 global companies surveyed have undertaken robotic process automation (RPA) projects.
According to PwC, RPA promises to automate up to 45% of work activities and result in US$2 trillion in global workforce savings. PwC estimates RPA projects to grow at a CAGR of 61.3% and hitting US$5 billion by 2024. By 2021, up to US$2.9 billion will be spent in APAC alone.
Gartner adds its weight to the prediction by forecasting that by 2020; nearly 72% of finance controllers will have adopted RPA, up from 19% in 2018. This is driven in part by the ability of the technology to automate specific tasks without requiring an overhaul of the finance supply chain.
In partnership with Automation Anywhere, CXOCIETY is hosting a luncheon panel discussion on Thursday, 12th December 2019 to broaden the discussion around RPA among finance users and IT.
Welcome to "Creating a Sustainable, Intelligent RPA Strategy for Finance". At this by-invitation only luncheon briefing, we will uncover the drivers for RPA adoption, including practical insights and best practices in ensuring successful harnessing of the benefits of the technology.
Time

Agenda

11:30

Registration

12:00

WELCOME REMARKS
Allan Tan, Group Editor-in-Chief, CXOCIETY

12:10

OPENING KEYNOTE ADDRESS
Chern-Yue Boey, President – Greater China Region, AUTOMATION ANYWHERE

12:30

PANEL DISCUSSION: Creating a Sustainable, Intelligent RPA Strategy for Finance
• Learnings from enterprises on how they kicked off their RPA/AI journey?
• What are the key considerations in mapping out an RPA-led strategy?
• Best practices for leveraging RPA/AI
• Digital Workforce platform – what the future of work looks like Moderator:
Allan Tan, Group Editor-in-Chief, CXOCIETY Panellists:
Chern-Yue Boey, President – Greater China Region, AUTOMATION ANYWHERE
Tin Ha, Director of Finance and Operations, ROCHE
Steven Yau, CIO APAC, THE ESTEE LAUDER COMPANIES
Tim Hurman, Group Transformation Director, TRICOR GROUP

13:15

LUNCH CONTINUES AND NETWORKING

14:00

END OF EVENT
* Agenda is subjected to changes
To RSVP for this event, please fill in the form below: