FutureCFO Breakfast Club:
CFO's Definitive Guide to Hyperautomation in Business Modernisation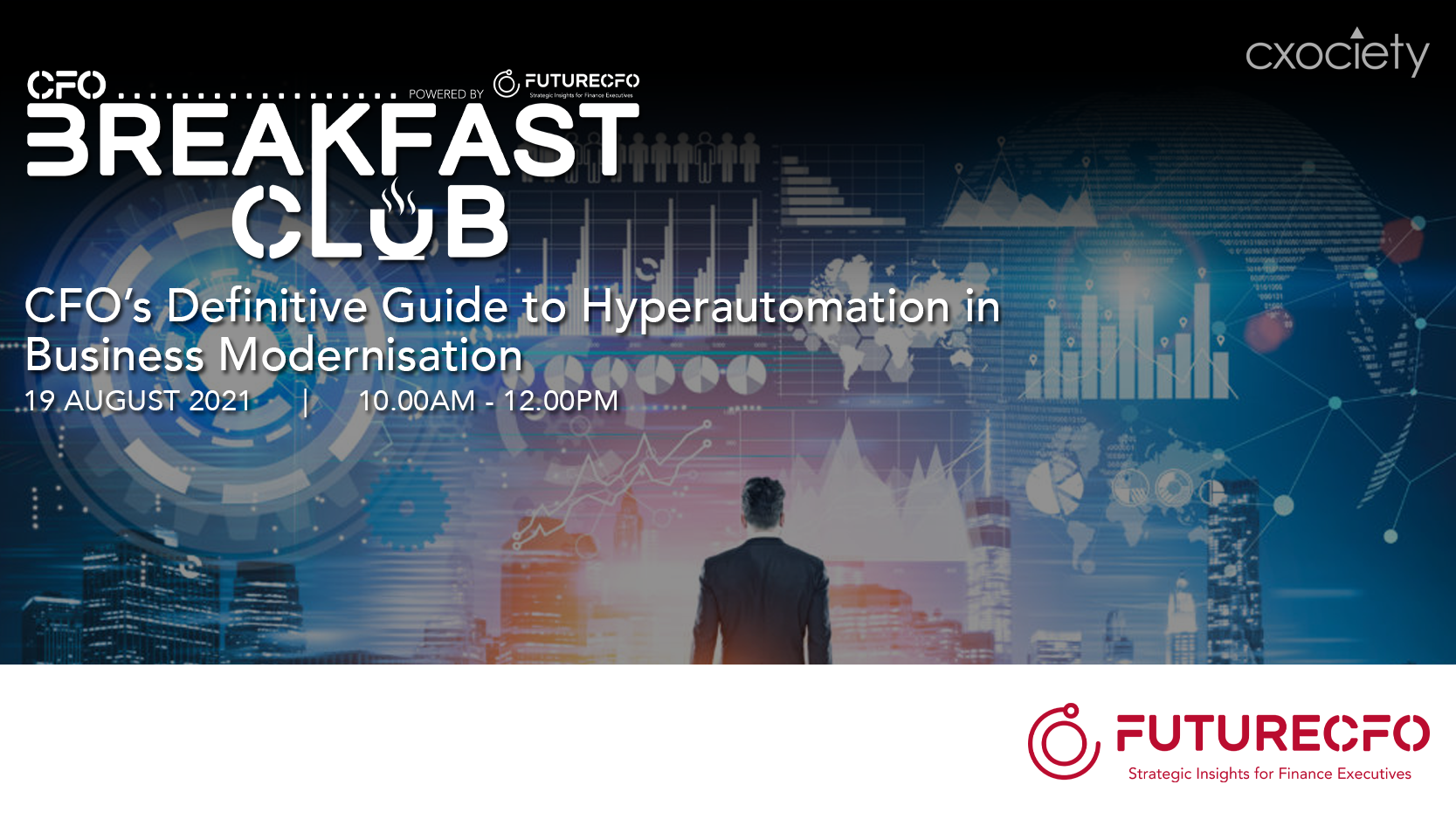 As a futurist and digital officer CFOs lead the automation and digitization charge with responsibility for determining how the organization can benefit from emerging technologies.
The CFO is now a value creator and strategic partner, as evidenced in the E&Y DNA of the CFO report where 69% of finance leaders acknowledged this change as tasks become more automated or managed in shared services.
This 19 August 2021 FutureCFO is a hosting a by-invitation only breakfast briefing for a select group of senior executives to highlight real-world strategies around transformational resilience, intelligent robotic process automation, and successfully juggling strategic and tactical priorities in times of crisis.
We will be joined by heads of finance from Asia who will share their experiences and lessons learned in 2020 and how finance is leading the charge to enterprise-wide resilience.
Time

Agenda

10:00

Moderator's Welcome Remarks During the 8 July FutureCFO roundtable of ASEAN CFOs, one of the consensuses reached was that COVID-19 has increased overall data and data diversity. This unforeseen increase has impacted both employee productivity and health, with deeper repercussions on sustainable business operations and shareholder value. These changes drive organisations toward unchartered waters as they look for new business models and new revenue streams. Central to achieving business transformation is the modernisation of everything important to the organisation – from product conceptualisation to customer support and everything in between. Regardless of how we call it – Hyperautomation, digital process automation or intelligent process automation – the directive is the modernise current processes by incorporating technology-driven best practices in data-centric decision-making. Allan Tan, Group Editor-in-Chief, CXOCIETY

10:10

Fireside Chat: Strategies for transformational resilience A survey by Gartner on CFO digitalisation imperatives concluded that finance chiefs have entered a period of significant finance and accounting transformation, with CFOs looking to invest in technologies that enhance financial data visibility and generate functional efficiencies. 93% of the CFO respondents have a vision for the function that is leaner, more digital and driven by data. As the architect of business transformation, the CFO understands that technology alone will not deliver on the company's aspirations and goals in 2021 and beyond. In this fireside chat, a guest regional CFO shares his experience leading not just the organisation but the company during the pandemic towards the transformation that needs to happen for the business to come out resilient and ahead of the market. Interviewee:
Rishi Mehra, CFO, Asia, Aon Singapore



Interviewer:




Allan Tan, Group Editor-in-Chief,

CXOCIETY

10:30

Keynote 1: Intelligent RPA – the antidote to real-time decision-making blues Gartner predicted that 90% of large organizations globally will adopt Robotic process automation (RPA) in some form by 2022 and will triple the capacity of their existing RPA portfolios through 2024. RPA promised to let us refocus our time. At the core this is still true. What the standard RPA does not do is make us faster in analysing events and smarter in deciding the next course of action. Intelligent RPA, when integrated with optical character recognition, natural language processing and machine learning, open new opportunities for data collection, workflow and operational and tactical decision-making. The trick is doing this without disrupting what is already in-place. Dan Ternes, Chief Technology Officer, APAC, BLUE PRISM

10:50

Executive Panel 1: Juggling with digitalization priorities and industrial challenges Gartner (and other analyst groups) have listed at least 10 "must-do" priorities for CFOs and finance leaders. The problem with these recommendations is that they do not all apply to you because every business is unique – a consequence of leadership priorities, company structure, geographical influence including socio-political environments, and just plain preference to have a unique value proposition. In this panel discussion, three leadership roles: CEO, CFO and CIO discuss how they address the differences in priorities from planning to execution. Panelists:
Jan Rosemeyer, Country CFO, Allianz Ayudhya
Juvanus Tjandra, Partner, KPMG
O'Niel Dissanayake, CEO - APAC, Socomec Group

Moderator:
Allan Tan, Group Editor-in-Chief, CXOCIETY

11:20

Executive Dialogue: The human+ future of automation in AsiaEvery vendor has a solution for your problem. For many who have started their automation journey, getting past the pilot and achieving the promises remain just that – promises! In this Executive Dialogue, we cover the implementation challenges facing finance teams in their quest to reap the benefits of automation across the various roles in finance, including accounting, procurement, FP&A, treasury, and receivables and payables.

Guest executive: Albert Leong, Managing Director, Esker Asia

11:35

Executive Panel 2: Really futureproofing your transformation today How do you plan for the unknown?

There is way too much technology to know what is right for you.
Socio-economic-political conditions will almost always influence business direction. Disruptions are the norm – not the exception.
Customer loyalty is only as good as the next product must-have – no matter what analysts say.

In this panel discussion, we invite a CFO to grill (three) technology experts on the above questions to come up with a workable framework for not just really futureproofing your transformation today, but more importantly, providing CFOs with a definitive guide to hyperautomation in business modernisation.

Panelists:
Vincent Lim, CFO Asia Pacific, Datalogic
Yee Ling Choo, Finance Director APAC MEA, Electrolux
Alexander Joramsa, CFO - APAC, Teva Pharmaceuticals



Moderator:




Allan Tan, Group Editor-in-Chief,

CXOCIETY

11:50

Closing Remarks: Next Steps

Allan Tan, Group Editor-in-Chief, CXOCIETY

12:00

CLOSE
* Agenda is subjected to changes
To register for this live virtual event, please fill in the form below:
10:00AM – 12:00PM (GMT +8)