FutureCFO C-Discovery Indonesia Forum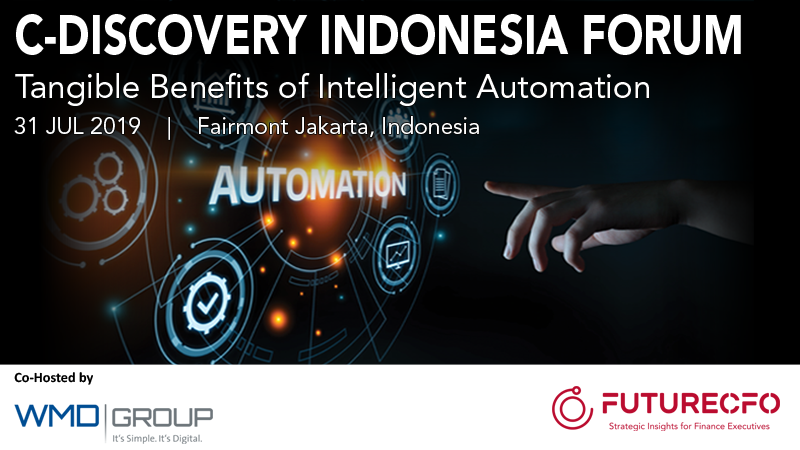 Digital transformation (DX) is necessary for organizations to compete and adapt as Indonesia's business landscape continually morph in response to changing customer behaviours and innovation. IDC says more than 80% of locally surveyed businesses see DX will bring tangible benefits.
While operating model, leadership and omni- experience are determined to be the immediate focus for transformation, DX initiatives to drive information and work source transformation are growing to be one of the priorities now.
But while DX can and will benefit all parts of the business, the transformation of the finance process will greatly accelerate the company's entry into the digital economy. Finance has always been about managing inflows and outflows to improve the bottom line. At issue is that in the digital economy, industry 4.0, the amount of information flowing in and out of the enterprise is overwhelming finance – crippling finance from focusing on strategic initiatives. EY says 80% of finance function can be automated. How will [must] the CFO [finance] function evolve in the industry 4.0? What must finance do to gain time for analysis and strategic recommendations?
Through its C-Discovery Series, FutureCFO, in partnership with Workflow Management & Document Consulting (WMD), will host a series of forums across Asia to discuss, discover and share best practices in harnessing the benefits of intelligent automation to the finance function.
Time

Agenda

8:30

Registration & Welcome Coffee/Tea

9:00

Welcome Address
Chairperson: Allan Tan, Group Editor-In-Chief, FutureCFO

9:15

Keynote session: Roadmap to Finance Automation – key points in a transformation journey

9:45

Path to Transformation: Solving the integration puzzle a.k.a. how to get the most from your ERP systems

9:55

Fireside Chat
With Volkmar Ahrens, Managing Director, WMD Workflow Management & Document Consulting Asia Pte Ltd

10:10

Morning Break

10:30

Panel Discussion

11:15

Audience Q&A

11:45

Gamification Exercise

12:30

Networking Lunch

14:00

End
* This agenda is not final and is subjected to changes.