FutureCFO C-Discovery Philippines Forum: Tangible Benefits of Intelligent Automation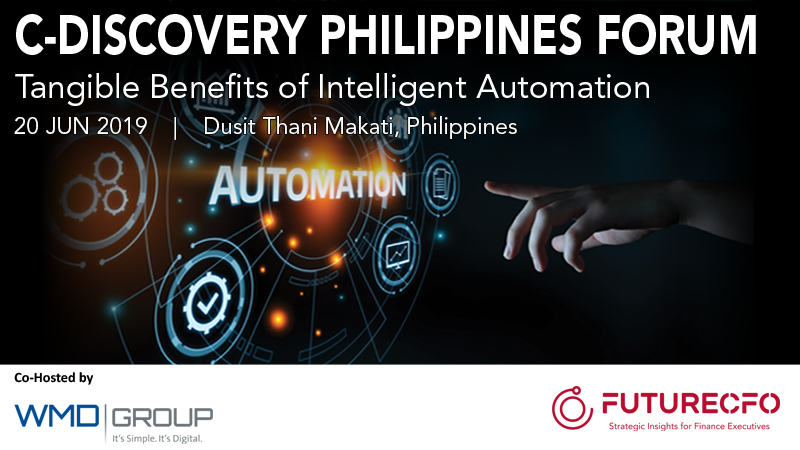 Progressive generations of industrial revolutions have brought with it, new opportunities and challenges. It is arguable that of all the technological innovations that have evolved in the race to digitally transform, the most impactful is intelligent automation.
Industry 4.0 is calling for a workforce who will work harder, learn faster, cost less and present untapped potential. Enabling this new workforce is intelligent automation – an amalgamation of artificial intelligence and robotic automation.
Intelligent automation is not just about automating business processes, it is using tools and proven best practices to enable intelligent decision-making at speeds and accuracy not previously thought possible, based on dynamic information.
Finance has always been about managing inflows and outflows to improve the bottom line. At issue is that in the digital economy, industry 4.0, the amount of information flowing in and out of the enterprise is overwhelming finance – crippling finance from focusing on strategic initiatives.
A recent EY survey said 56% of global CFOs cannot focus on strategic priorities due to time spent on compliance, control and cost initiatives.
EY says 80% of finance function can be automated. How will [must] the CFO [finance] function evolve in the industry 4.0? What must finance do to gain time for analysis and strategic recommendations?
Through its C-Discovery Series, FutureCFO, in partnership with Workflow Management & Document Consulting (WMD), will host a series of forums across Asia to discuss, discover and share best practices in harnessing the benefits of intelligent automation to the finance function.
Time

Agenda

8:30

Registration & Welcome Refreshments

9:15

Welcome Address
A peek at automation and its impact on the finance function

Allan Tan, Group Editor-In-Chief, FUTURECFO

9:30

Keynote Presentation: Roadmap to Finance Automation – Key Points in a Transformation Journey

Jomar Bagacina, CFO, COCA-COLA BOTTLERS BUSINESS SERVICES PHILIPPINES

10:00

Fireside Chat: Solving the Integration Puzzle a.k.a. How to Get the Most from your ERP Systems
So, you've spent hundreds of thousands if not millions of pesos on these ERP systems. While the solution has helped improve certain processes, there continues to be lingering concerns that the company is not fully benefiting from the described functions during the sales pitch. Uncover practical tips on how to reap those ROI promises from your current investments.

Volkmar Ahrens, Managing Director, WORKFLOW MANAGEMENT & DOCUMENT CONSULTING ASIA PTE LTD (WMD)

10:30

Morning Networking Refreshment Break

10:50

Exercise: Gamifying Receivables – Game Discuss Pitch Review (GDPR)
With a company-wide mandate to digitize operations, you are asked to submit a proposal to automate accounts receivables (AR) including accounts receivable entry, AR aging report, and AR Financing. Prizes await participants in GDPR – a game of wits, experience and daring to be different

11:40

Turning your AP-Department from a Cost-Centre to a Profit-Centre
Applying smart technology enables you to reduce your efforts, streamline your processes and consider reverse-factoring, which will create significant cash-savings. Crucial is your relationship to your vendors. Find out ways on how all parties can contribute and equally benefit from automated processes through this session.

Volkmar Ahrens, Managing Director, WORKFLOW MANAGEMENT & DOCUMENT CONSULTING ASIA PTE LTD (WMD)

12:00

Executive Panel Discussion: Automation Playbook – Avoiding Pitfalls in the DX Journey
How long does it take for a typical-sized Philippine business to close its accounting books each month? EY says the best performing companies take less than five days. A survey by the Institute of Management Accountants reveal that 33% of finance teams spend 51-75% of their time collecting, entering and validating data. The Hackett Group said uneven workloads and prevalent overtime are cited as challenges by 60%+ of accounting teams polled. 63% of CFOs that participated in a CFO Research described the state of their finance function's use of technology as "inefficient," "silo-constrained," or "not linked to decision-making."

This cannot be permitted to continue. CFOs believe that a technology-led finance transformation will mandate the whole finance model to work together effectively from shared services through to the finance function. The goal is better service and more insight.

Moderator:
Allan Tan, Group Editor-In-Chief, FUTURECFO

Panelist:
Lito Villanueva, EVP and Chief Innovation & Inclusion Officer, RIZAL COMMERCIAL BANKING CORPORATION
Joselito G. Diga, CFO, UNILAB
Volkmar Ahrens, Managing Director, WORKFLOW MANAGEMENT & DOCUMENT CONSULTING ASIA PTE LTD (WMD)

12:30

Closing Remarks

Volkmar Ahrens, Managing Director, WORKFLOW MANAGEMENT & DOCUMENT CONSULTING ASIA PTE LTD (WMD)

12:40

Networking Lunch

14:00

Close
* Agenda is subjected to changes