FutureCIO Forum: Essentials to Multicloud Management Success Strategy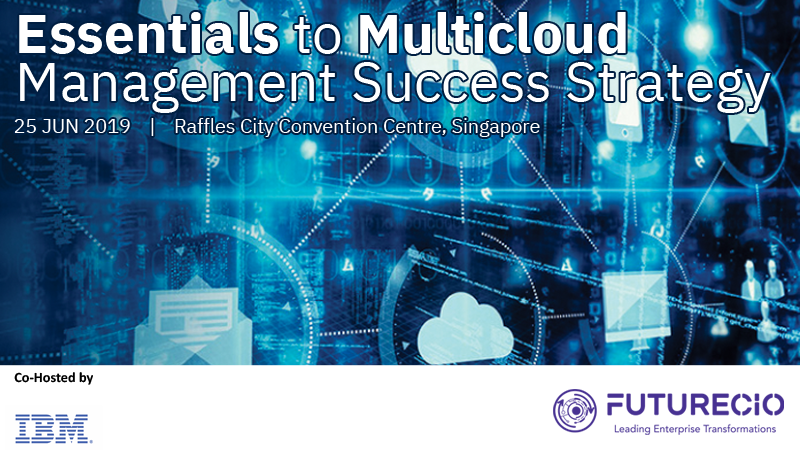 A recent Gartner survey revealed that 81% of public cloud users are working with two or more providers. "Most organizations adopt a multi-cloud strategy out of a desire to avoid vendor lock-in or to take advantage of best of breed solutions," said Michael Warrilow, VP Analyst, Gartner. This will remain the strategy going forward.

IDC added that the move to multicloud will drive the need for consistent and standardized availability of automated cloud resources to enable businesses to execute at speed and cost effectively. But as enterprises sign on cloud services from multiple providers, can you build a robust delivery platform for agility?

Daphne Chung, Research Director for Cloud Services and Software at IDC Asia/Pacific summed it up succinctly: "Organizations will find themselves increasingly needing to deal with the growing complexity, ensure integration and portability of workloads as they seek greater levels of innovation and business value."

Enterprises that are adopting a multicloud strategy must cover three critical areas of consideration: sourcing, architecture and governance. Do you feel comfortable managing multiple third parties to ensure that your organization remains compliant and secure?

As part of its commitment to the better understanding and adopting of advanced technology, FutureCIO is partnering with IBM to bring together experts in the field of security, cloud management and governance, to provide you with hands-on know-how on what you need to become the multicloud expert your organization needs to become successful.
Time

Agenda

8:30 – 9:00

Registration & Welcome Refreshments

9:00 – 9:45

Keynote: Trust by Design

Chris Lim, Partner, Risk Advisory Services, Ernst & Young Advisory

9:45 – 10:40

Keynote: Application Modernisation

Bounthara Ing, Director, IBM Cloud Innovation Services, IBM Asia-Pacific

10:40 – 11:00

Morning Break

11:00 – 11:40

Keynote: Multicloud Management

Adrian CY Ong, Business Executive, IBM Cloud Private IBM Asia-Pacific
Yea Chee Hong, Executive Technical Leader, IBM Cloud Integration Software, IBM Asia-Pacific

11:40 – 12:30

Panel Discussion & Interactive Quiz Activity

Moderator:
Allan Tan, Group Editor-in-Chief, CXOCIETY

Panelists:
Adrian CY Ong, Business Executive, IBM Cloud Private IBM Asia-Pacific Bounthara Ing, Director, IBM Cloud Innovation Services, IBM Asia-Pacific
Chris Lim, Partner, Risk Advisory Services, Ernst & Young Advisory
Yea Chee Hong, Executive Technical Leader, IBM Cloud Integration Software, IBM Asia-Pacific

12:30 – 13:30

Networking Lunch
* Agenda is subjected to changes
Raffles City Convention Centre, Singapore