FutureIoT C-Level Hong Kong Roundtable: Mastering Agile Supply Chain in the Digital Era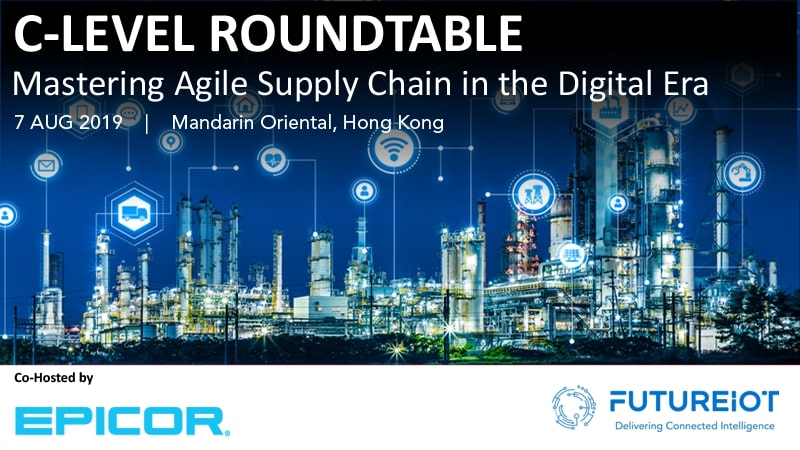 Since 2016, Hong Kong has been labelled a super connector and logistics mega hub – the gateway between China and the rest of the world. But the current trade wars between China and the U.S. will likely test the ability of the city to withstand seismic shifts in the movements of goods and services.

At the 2019 Asia Financial Forum, Victor Fung Kwok-King, Group Chairman of international supply chain firm Fung Group, suggests that to remain relevant Hong Kong must orchestrate the potential new global trade flow.

As Hong Kong businesses plan a future where China is no longer the manufacturing centre of the world, digitalization will play a central role in ensuring enterprises are able to adopt newer leaner ways to operate, including using proven and agile business models, adoption of hyper connected platforms, extensive use of data analytics and collaboration tools.

FutureIoT, in partnership with Epicor Software, will hold an exclusive roundtable discussion with senior leadership from leading production and distribution enterprises in Hong Kong.
Time

Agenda

8:30

Registration & Networking

9:00

Opening (Moderator) & Welcome (Host – Epicor Software)

Moderator:
Sheila Lam, Editorial Consultant, FutureIoT, Cxociety Pte Ltd

Hosts:
Vincent Tang, VP Sales, Asia, Epicor Software
Billy Lui , Business Solutions Director – Asia, Epicor Software

9:15

Self-Introductions by Participants
Moderated Discussion

10:15

Closing Remarks

10:30

End
* This agenda is not final and is subjected to changes.