FutureIoT C-Level Roundtable: Mastering Digital Disruption: The Supply Chain Opportunity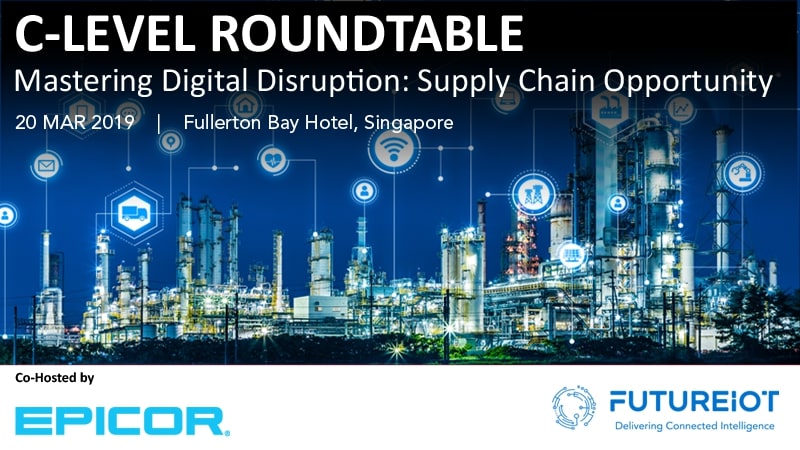 Media attention may be on the looming China-US trade war and Brexit but for manufacturers in Singapore the focus is on identifying and carving out new market opportunities across Asia Pacific and elsewhere. Yes, manufacturers are further fine-tuning operational processes in order to reduce the 'fat'. But the reality is that you can only trim so much.
The real challenge for manufacturers and retailers, and the ecosystem in between, is rooted in the so-called experiential economy where consumer satisfaction is measured in terms of immediacy – how fast an order is fulfilled. Everyone is under extreme pressure to move goods faster than previously thought possible – from 10-15 days lead time to 1-3 days. Additionally, new requirements such as two-day delivery, free shipping, automated returns and exchanges are creating the need for sophisticated warehouse management. Everyone, from manufacturers to distributors and retailers, are also under shareholder pressure to lower inventory levels and free-up cash flow.
Sometimes referred to as the Amazon Effect, the battle for customer wallet will be won or lost on the basis of speed to market. Manufacturers, distributors and retailers that have mastered the Amazon Effect do so by delivering on two things: visibility and accessibility.
The goal of this roundtable is to unearth operational and business challenges, and identify where technology, including the use of IoT, can help fulfil customer expectations. Including areas where much still needs to improve to master the Amazon Effect.
Time

Agenda

8:30

Registration & Networking

8:45

Opening (Moderator) & Welcome (Host - Epicor Software)

Moderator:
Allan Tan, Editor-in-Chief, FutureIoT, Cxociety Pte Ltd

Hosts:
Kirsty Waller, VP International Marketing, Epicor Software
Vincent Tang, VP Sales, Asia, Epicor Software

9:00 AM

Self-Introductions by Participants
Moderated Discussion

10:30

Closing Remarks

11:00

END
* Agenda is subjected to changes