FutureIoT C-Level Singapore Roundtable: Mastering Agile Supply Chain in the Digital Era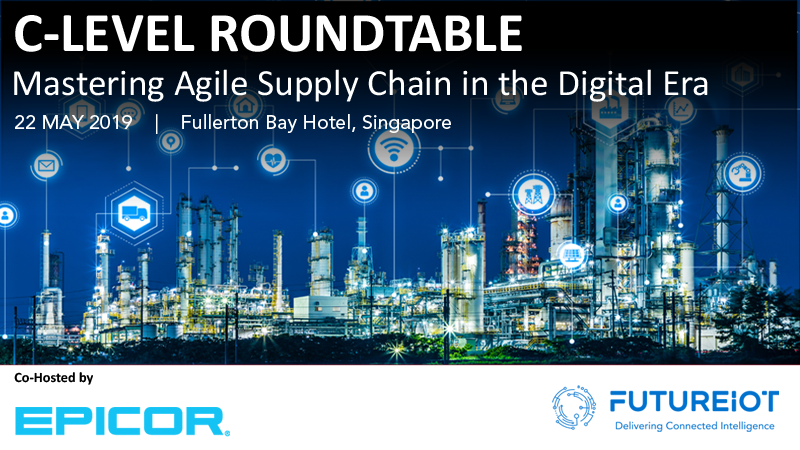 More than 80% of business leaders responding to a Gartner survey expect their company to become a digital enterprise by 2019. To become one, however, requires evolving and adopting newer leaner ways to operate, including using proven and agile business models, adoption of hyper connected platforms, extensive use of data analytics and collaboration tools. The bad news for most manufacturers is that they are stuck with legacy ERP systems and processes that are next to impossible to change. Trimming the fat will give you very little back for the effort. The good news is there are ways to get around these that do not require manufacturers going bankrupt. All manufacturers share the same aspirations: minimize inventory, speed up time-to-market, increase revenue, and improve profitability.
For manufacturers looking to transform and become digital natives, we present "Mastering agile supply chain in the digital era" – an exclusive roundtable discussion that aims to set manufacturing value chain in the right direction towards becoming digital masters of 2019.
FutureIoT, in partnership with Epicor Software, will hold an exclusive roundtable discussion with senior leadership from leading production and distribution enterprises in Singapore. The goal of the roundtable is to help business, operations and technology leaders understand the requirements to become digital, and set them on the path to digital mastery.
Time

Agenda

8:30

Registration & Networking

9:00

Opening (Moderator) & Welcome (Host - Epicor Software)

Moderator:
Victor Ng Editor, FutureIoT, Cxociety Pte Ltd

Hosts:
Vincent Tang, VP Sales, Asia, Epicor Software
Irene Hwa, Marketing Director Asia Pacific, Epicor Software

9:15 AM

Self-Introductions by Participants
Moderated Discussion

10:45

Closing Remarks

11:00

END
* Agenda is subjected to changes