IBM eOpenHouse: Accelerate Growth in the New Normal [On-Demand]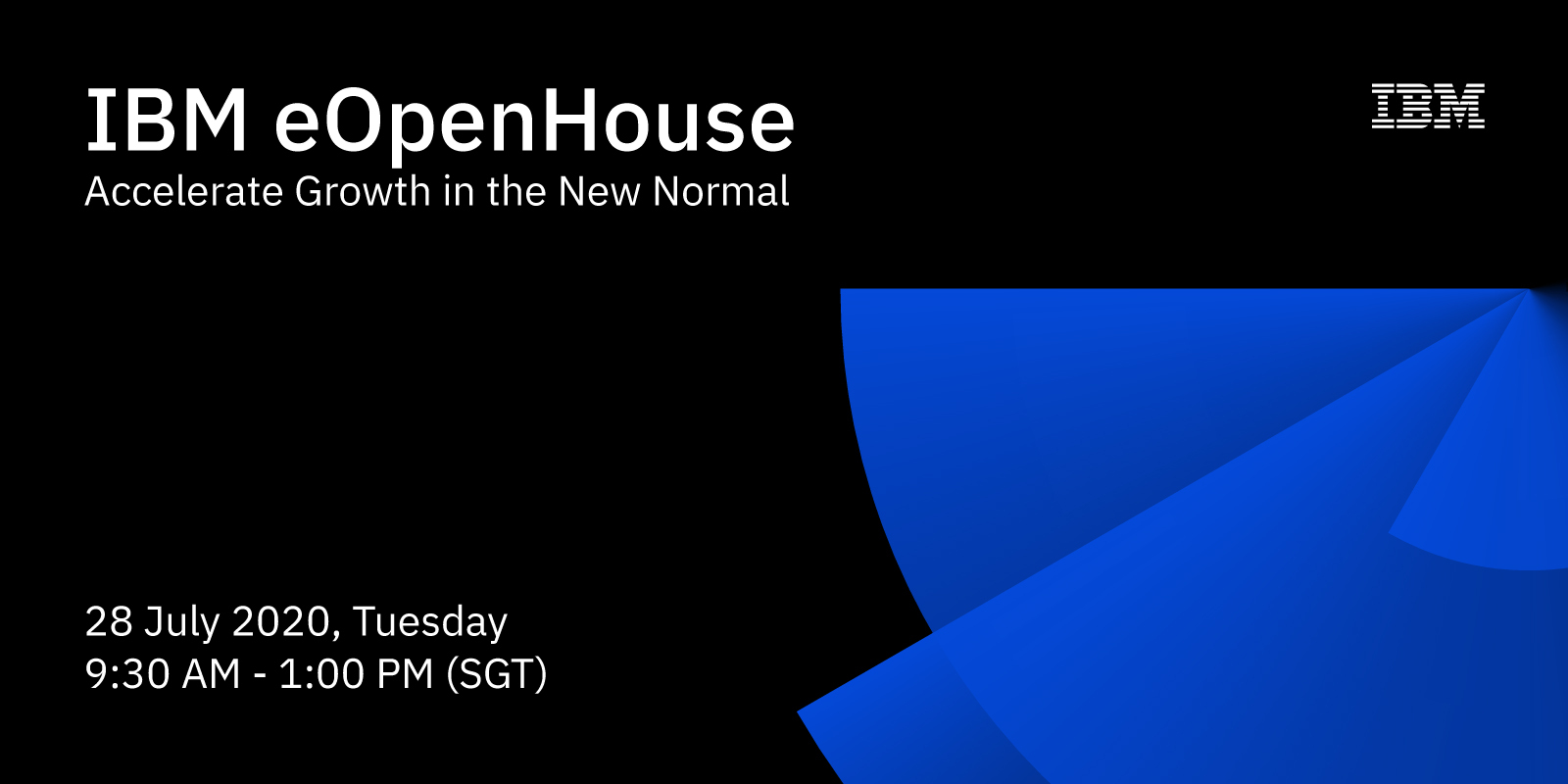 2020 will be written as one of the most challenging years in modern history when advances in technology clash head-on with unprecedent crisis testing the mettle of companies of all sizes, business leaders of all experiences, and entrepreneurs of all disciplines.
Recognizing the need for business leaders, employers and employees to come out of this on top, IBM has launched eOpenHouse, an online portal where you can view business and community leaders talk about key trends that are reshaping the competitive landscape in Singapore, and the tools you can use to lead the market.
In addition, IBM has also assembled subject matter experts to share their ideas and experiences on two very important areas of business: scaling business operations – conditions for growth, and optimise working in the new normal.
The presentations are short, direct-to-the-point and loaded with real-world applications.
So whether you want to understand how to use analytics to create sustainable operations, or how you can extract more value from e-invoicing, or how to get back to work securely and fast, there is something for everyone at IBM eOpenHouse.
Experience the virtual event on-demand and begin your journey towards accelerated growth in the new normal.
Time

Agenda

09:30

Technology Showcase
Join IBM and our EcoSystem of Partners at the Technology Showcase before the keynote sessions start.

10:00

Keynote 1: Taking on the Future with New Business Capabilities
In conversation with Guest Speaker and Martin Chee, Managing Director, IBM Singapore Keynote 2: Leveraging Technology to Transform - Start Small, Scale Fast
In conversation with Sharon Teo, SGTech Councillor & Singapore Enterprise Chapter Chairman and Raymond Wong, General Manager, IBM Singapore Partner Ecosystem

10:40 onwards

Choose from eight concise sessions within two Tracks featuring our panel of subject matter experts who will deep dive into specific 'How-To' and jump start technology innovation by starting small and scaling fast through used cases. Track 1: Scaling Business Operations. Conditioned for Growth
Four Sessions:


Smarter Way of Invoicing - e-invoicing
Integrated Data and AI platform
AI & Chatbot for Customer Care
Cloud Native Business Automation

Track 2: Optimize Working in the New Normal
Four Sessions:


Security Governance for Remote Workforce
Scalable Storage for Unstructured Data
Collaborate with High Speed File sharing
Return to Workplace Playbook

11:00 onwards

Don't miss our Fireside Chats where our subject matter experts will be available for discussions and Q&A for the following topics:

Return to Workplace Playbook
AI & Chatbot for Customer Care
Journey to the Cloud with IBM Cloud Paks

Continue to explore and experience the technology with IBM and our EcoSystem of Partners back at the Technology Showcase. Live Chats would be available if you would like to ask questions. Note: The two Tracks and Technology Showcase will be opened till 1:00 PM (SGT).

13:00

CLOSE
* Agenda is subjected to changes
To RSVP for this event, please fill in the form below: