IBM Supercomputing vForum: Innovation Beyond Machines. Solving the Unsolvable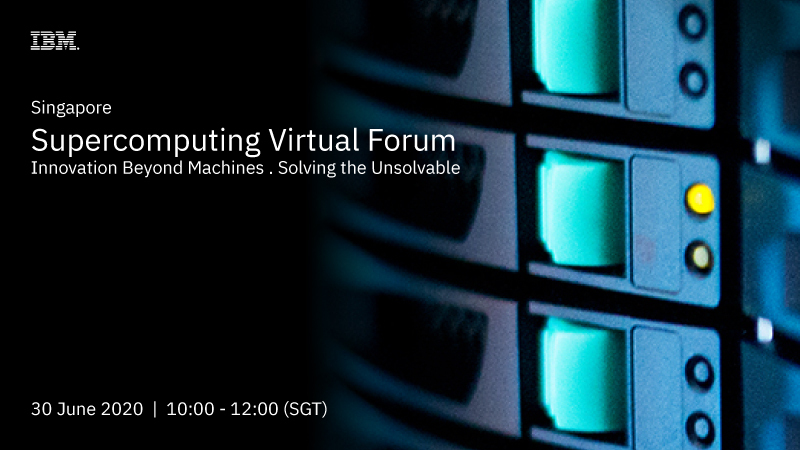 In the past few months, technology has been put to the test like never before. On one hand, healthcare professionals have been grappling with the onset of the pandemic and trying to find answers in data and numbers. On the other, businesses are looking at new breakthroughs to simulate complex problems and create solutions. Hence, the demand of compute and processing power continue to increase as organizations accelerate their plans of leveraging Big Data for innovation.
Join us on 30 June 2020 at this virtual forum where we bring in the experts from the domain of High Performance Computing (HPC), AI and Quantum computing to explore how the paradigm has shifted from what we 'want' to what we 'essentially need' from Tech for Good.
Be the game-changers to bring solutions to the world and get your organization ready for the new normal.
Time

Agenda

10:00

Welcome Remarks
Martin Chee, Managing Director, IBM SINGAPORE

10:05

Harnessing the Power of Supercomputing to Solve the Unsolvable
Dr. Dario Gil, Director of IBM Research, IBM

10:35

AI and HPC for Industry and Societal Impact in Singapore
Dr. Lim Keng Hui, Executive Director, Institute of High Performance Computing, A*STAR

11:00

Closing Remarks
Martin Chee, Managing Director, IBM Singapore

11:10

Track 1: AI @ Scale
AI @ Scale: Faster Simulations, Better Models and Smarter Deployments Clarisse Taaffe-Hedglin, Executive IT Architect, IBM ----------------------------------- Track 2: Bringing Quantum to life
Getting Started with Qiskit & Demo
Junye Huang, Quantum Developer Advocate, IBM

11:40

Track 1: AI @ Scale
Exascale Deep Learning
Dr. Prabhat, Data and Analytics Group Lead, NERSC, Berkeley Lab ----------------------------------- Track 2: Bringing Quantum to life
Quantum Machine Learning Experiments
Joaquin Keller, Co-Founder, Entropica Labs

12:00

End of Event
* Agenda is subjected to changes
To RSVP for this event, please fill in the form below:
- Chief Data Officers
- Data Scientists
- Head of IT/ IT Infrastructure/ Datacenters/ Analytics
- Senior IT professionals