Insurance Executive Symposium: Emerging Stronger with AI-infused Hyperautomation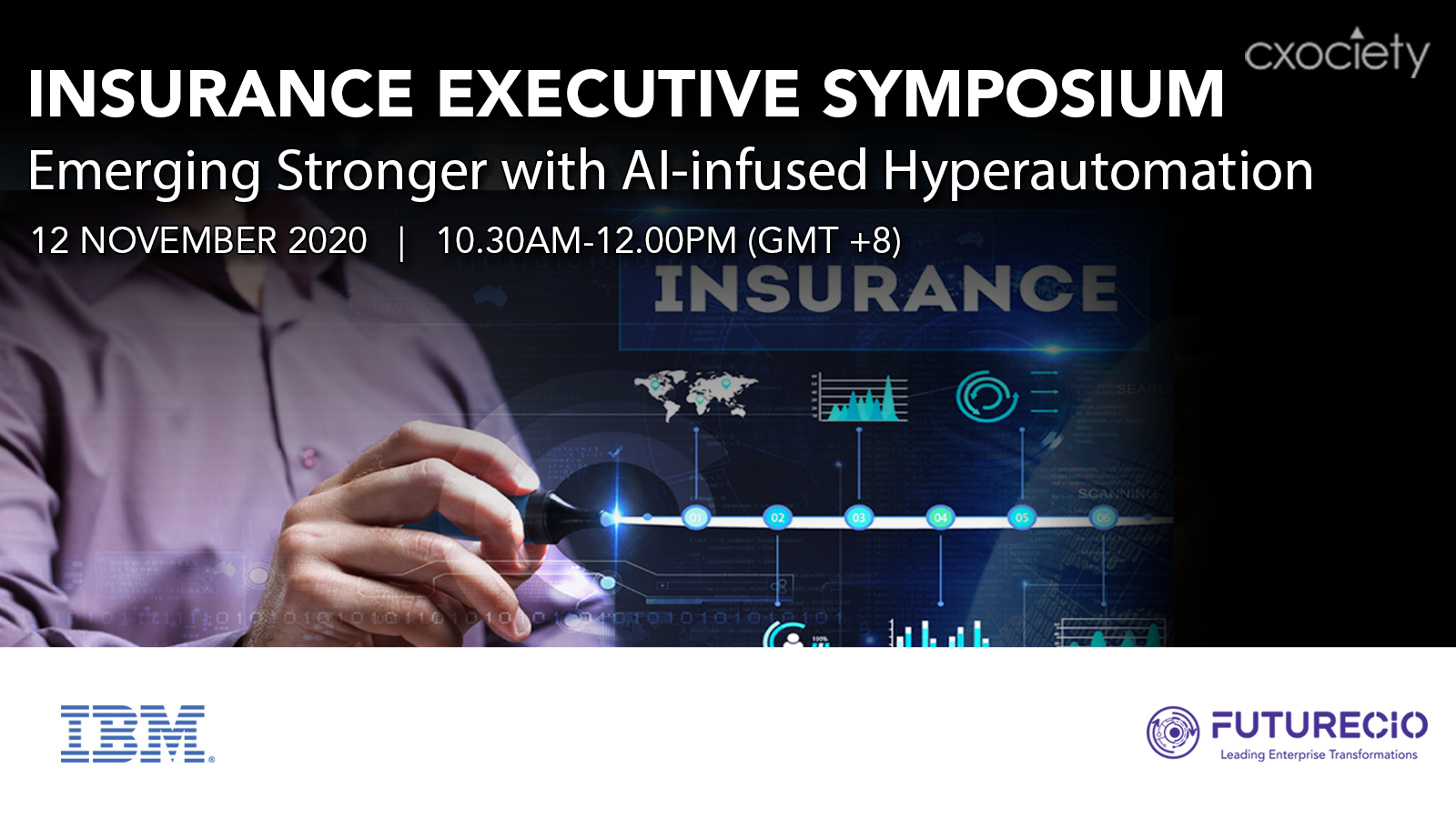 COVID-19 pandemic is accelerating digital transformation initiatives. Within the insurance industry social distancing mandates amidst fears of contagion is driving adoption of automation solutions from customer acquisition, to onboarding, to claims processing.
In their quest to a return to some normalcy, insurers are discovering that legacy operations and workflows are siloed. Lacking in an integrated approach to investments, insurers are unable to optimise operations to gain further productivity improvements or insights.
Juniper Research says car, property, life, and health insurers will increase their annual savings by more than 4 times in 2023, compared to 2019, by investing in these emerging technologies. Additional benefits will include reducing the time to settle claims and improving customer loyalty.
But with opportunities also come risks. Acknowledging the compelling values of automation: Digital labour does not fall ill and can perform repeatable tasks from anywhere with equal efficiency, Forrester warns that firms will struggle with technical, structural, cultural, and business process change as they retool to make broader use of a digital workforce.
How, then, do you introduce automation while recognition the higher value that human-machine collaboration makes possible?
CXOCIETY, in partnership with IBM, invites you to a by-invitation only Insurance Executive Symposium on Emerging Stronger with AI-infused Hyperautomation.
If you want to know the why and how cognitive automation can help you in optimizing claims processing, personalised marketing & advice, policy administration, streamlining the underwriting practice, detecting and mitigating insurance fraud, this Symposium is for you.
To ensure maximum learning and sharing of experience, we will strictly limit the group size. So please sign up and secure your seat in this one-of-a-kind event.
Time

Agenda

10:30

Welcome Remarks
Allan Tan, Group Editor-in-Chief, CXOCIETY

10:35

Insurance Industry: Trends and Impact of COVID-19


10:50

Reimagining Insurance with Cognitive Automation: Introduction to Digital Worker

11:05

Interactive Discussion 1

11:15

Demonstrating the value of Automation across Insurance Use Cases

11:25

Modernizing Automation across the Company: Introduction to IBM Cloud Pak for Automation

11:40

Interactive Discussion 2

11:50

CLOSING REMARKS
Allan Tan, Group Editor-in-Chief, CXOCIETY

12:00

CLOSE
* Agenda is subjected to changes
To RSVP for this event, please fill in the form below:
12 November 2020, Thursday
10:30AM – 12:00PM (GMT +8)