Virtual Event: Optimize Support Cost, Maximize Availability and Fuel Growth - Without Additional Investment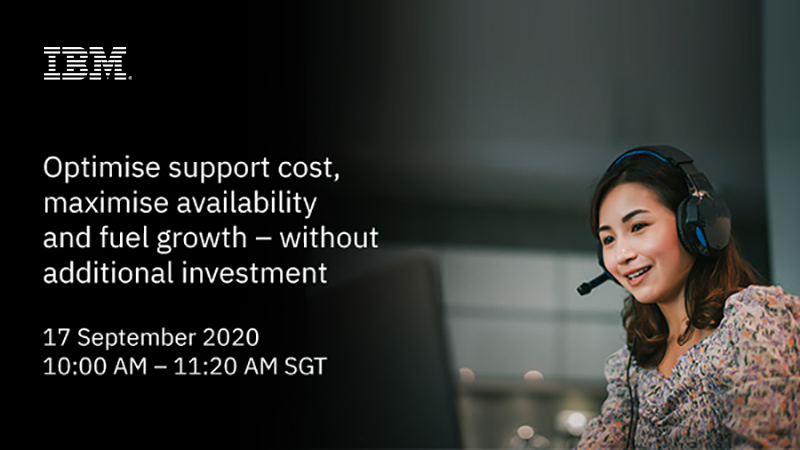 How do you pursue technology-led innovation without having to worry about keeping the lights on (servers, storages, networks, applications and edge devices)?
If the job was hard when everything was centralised with a mainframe, today's distributed, multi-cloud, best-of-breed, is like organising a wedding party for a thousand people with just yourself handling everything from preparation to clean-up after the party.
Analysts estimate that for every dollar spent on new technology, an additional nine dollars will be spent on supporting that technology. When you consider the economic impact of COVID-19 on businesses, how can an enterprise focus on driving value without dropping the ball on their IT infrastructure?
Gartner says 80% of all IT costs occur after the initial purchase. It estimates that companies spend US$700 per user per month when all IT expenses are factored in.
Gartner says third party maintenance (TPM) is an option that procurement should always explore as a cost-saving opportunity. However, FutureCIO argues that TPM can be used as a competitive advantage to enable enterprises to focus on business value generating initiatives like digital transformation, customer experience, and business model transformation.
FutureCIO, in partnership with IBM, is hosting a virtual event this September 17, to cover four of the most challenging aspects of keeping the lights on: multivendor hardware-software-network maintenance, Oracle third-party maintenance, using AI to optimise IT operations, and ensuring enterprise-grade support for open source initiatives including community open source software.
Time

Agenda

10:00

Kick Off
Allan Tan, Group Editor-in-Chief, CXOCIETY

10:05

Welcome Remarks
Jeremy Tan, Leader, Technology Support Services, IBM ASEAN

10:10

Keynote: Optimise Support Cost, Maximise Availability and Fuel Growth - Without Additional Investment
Learn about the capabilities and use cases that can organisations reduce reduce OPEX, improve service availability with innovative and right-sourced support model with AIOps-powered insights and catalyze new revenue streams with digital services transformation built on open source software - all at once.

Simon Wong, Client Solution Executive, IBM Services
Gopalakrishnan Kolathu, Business Development Executive, IBM Services
Wong Hying Sang, Open Source Solutions Development Executive, IBM Services
Jackson Ang, Solutions Leader, IBM Services


10:50

Ask Me Anything Panel
Moderator:
Allan Tan, Group Editor-in-Chief, CXOCIETY Guest Panelist:
Keyur Shah, Senior Director Finance, FP&A COE, APAC, Johnson & Johnson

11:15

Closing Remarks
Jeremy Tan, Leader, Technology Support Services, IBM ASEAN
* Agenda is subjected to changes
To RSVP for this event, please fill in the form below:
17 September 2020, Thursday
- Chief Information Officers
- Head of IT/ IT Infrastructure/ Datacenters
- Senior IT professionals
- Head of Operations
- Senior operations professionals
- Chief Financial Officers
- Senior finance professionals