Virtual Roundtable: Coming out Stronger in 2021 – What does Good Look Like?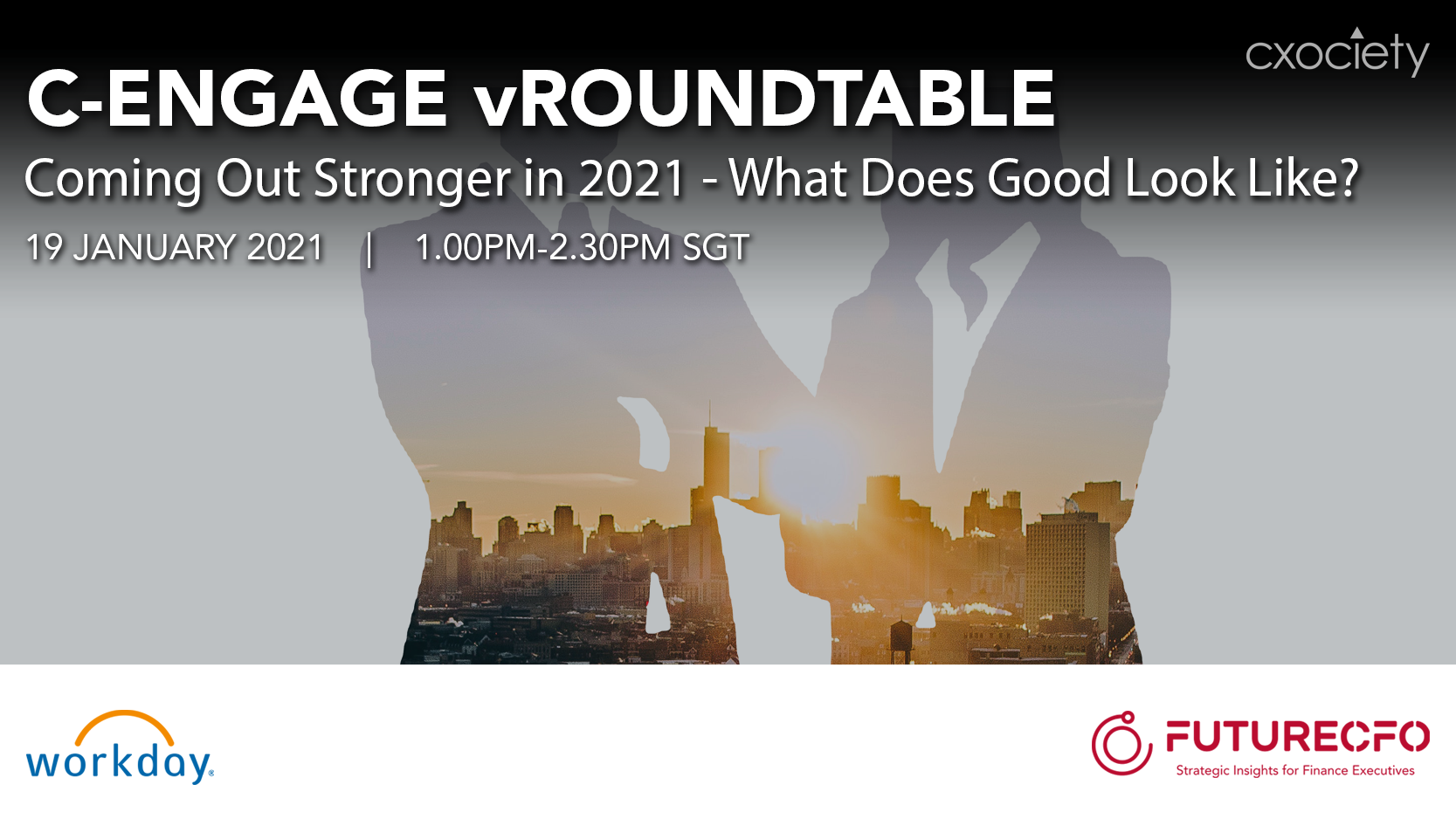 There is a lot of apprehension coming into the new year. Even with a COVID-19 vaccine on the way, there remain multiple uncertainties. For example: when the pandemic can truly be contained; when economies can go back to some semblance of normal; what can we do to emerge stronger in 2021?
"As leaders try to boost cash flow and profitability into 2021, they will be tempted to cut costs with traditional methods. Finance leaders should think about the future of their digital enterprise and reallocate resources in a way that will shave years off their digital transformation," said Alexander Bant, vice president, research in Gartner's Finance practice.
To prepare for the next phase of growth, many CFOs are seeking to revive stalled growth investments while optimizing costs to better reflect new business realities.
On 19 January 2021, CXOCIETY in partnership with Workday will bring together senior finance leaders to discuss challenges presented by the new normal and look at options for approaching 2021 with the objective of coming out stronger not only as partner to the business, but as leader to the organisation.
We will tackle key issues including:
What are the key learnings of 2020 from the CFO perspective?
What investments do we need to make in digital transformation? What to prioritise?
How do we evaluate if the 'old ways of doing things' will not make us stronger in 2021?
As a special treat, we have invited a CFO to share his/her experiences and learnings of 2020, and strategies for 2021.
Time (SGT)

Agenda

12:45

VIRTUAL MEET & GREET

13:00

OPENING BY MODERATOR
Allan Tan, Group Editor-in-Chief, Cxociety

13:05

WELCOME ADDRESS BY HOST
Charlene Tan, Regional Sales Director, Singapore, WORKDAY

13:10

Fireside chat – Overcoming the Challenges of 2020 Interviewer:
Allan Tan, Group Editor-in-Chief, CXOCIETY Interviewee:
Elizabeth Ng, Chief Financial Officer, DELOITTE SINGAPORE

13:25

MODERATED DISCUSSION

14:20

CLOSING REMARKS
Tan Lee Thong, CFO Practice Lead, Asia, WORKDAY

14:30

CLOSE
* Agenda is subjected to changes
This is a by-invitation-only event. You may submit your interest to join the event here. Successful registrants will receive confirmation email from Cxociety within 3 working days (exclude weekends and Public Holidays).