Virtual Roundtable: Driving Value and Competitive Advantage during COVID-19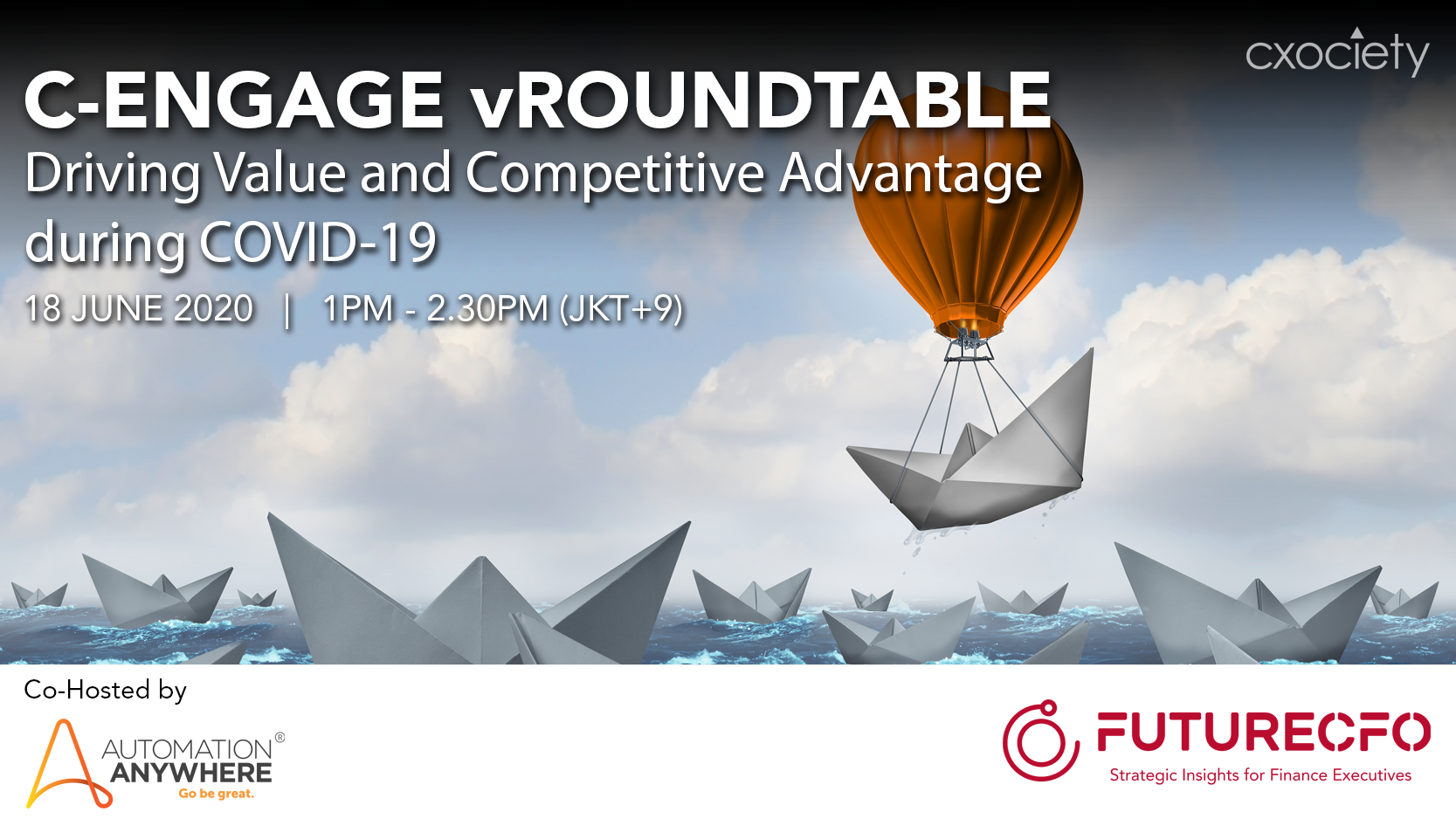 Situational analysis
With all but healthcare products and services continuing to see declines in Q1 2020, the short-term outlook are not positive. With Bank Indonesia halving its 2020 GDP forecast to 2.3%, from 5.5%, Indonesia's financial services sector is poised to take a dip in 2020.
RPA vs COVID-19
COVID-19 has disrupted digital transformation efforts at financial services as industry players comply with Bank Indonesia's call to restructure loans to individuals and corporates to the tune of Rp 120.86 trillion.
How do you efficiently process 832,000 borrowers without straining resources even as the country observes national lockdown measures to curtail the spread of the pandemic? How do you re-allocate resources to address new opportunities while adhering to social distancing measures?
Opportunities in adversities
Where adversities exist, opportunities follow closely.
On 18th June 2020, Automation Anywhere, in partnership with CXOCIETY, will host a virtual roundtable with senior leaders from among Indonesia's leading financial institutions to address the challenges and opportunities facing the country today, and the role of process automation towards supporting changing market dynamics.
At this event titled, Driving value and competitive advantage during COVID-19, we will cover issues like:
What does COVID-19 mean to a BFSI's transformation strategy – what to continue, what to shelf (for now), how to move forward?
Important considerations when developing a process automation strategy?
Already have an RPA plan signed before COVID-19, how do you re-assess (finetune) your RPA strategy to reflect COVID-19 operational conditions?
Time

Agenda

12:45

VIRTUAL MEET & GREET

13:00

OPENING BY MODERATOR
Allan Tan, Group Editor-in-Chief, Cxociety

13:05

WELCOME ADDRESS BY HOSTS
Amit Sawarkar, Strategic Partners Lead, Automation Anywhere
Regina Koilam, Senior Vice President, PT Svadaia Humana Jasa (Partner of Automation Anywhere)

13:15

SELF-INTRODUCTIONS
by Participants

MODERATED DISCUSSION

14:20

CLOSING REMARKS
Amit Sawarkar, Strategic Partners Lead, Automation Anywhere


14:30

CLOSE
* Agenda is subjected to changes
This is a by-invitation-only event. You may submit your interest to join the event here. Successful registrants will receive confirmation email from Cxociety within 3 working days (exclude weekends and Public Holidays).