Virtual Roundtable: Finance Leadership in the Age of Disruption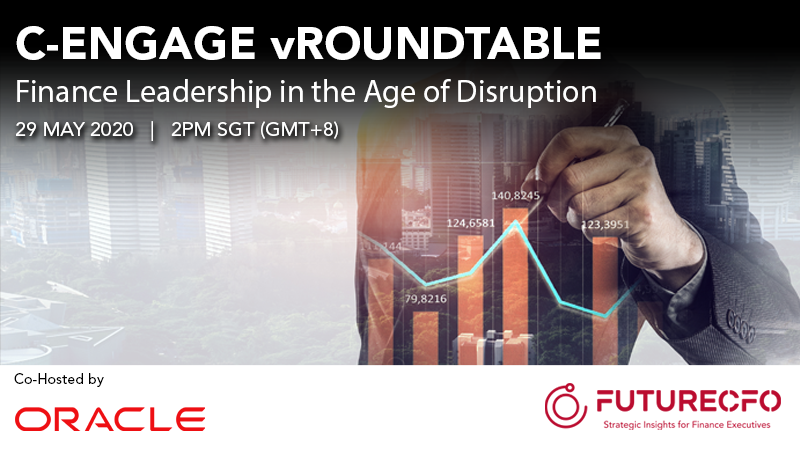 An ongoing survey by FutureCFO revealed that CFOs and finance team lead have all adjusted their priorities in 2020. Where it was originally about growth, it is now about risk management and better optimisation of resources to ride out the COVID-19 pandemic.
COVID-19 highlights the importance of being able to pivot in the wake of evolving challenges. The pandemic has crippled supply chains that are slow to react to the spikes in demand and lost interest in others. There is a greater emphasis on finance to provide what-if scenarios as business conditions become more fluid and uncertain than usual.
FutureCFO respondents also acknowledged the need for better insight in order to support more agile decision-making, including building scenarios for business recovery.
The current conditions are forcing businesses to engage suppliers, customers and financiers to find suitable short-term solutions to support cash flows and improve working capital management. All while also looking at recovery options for the business.
With the theme: Finance leadership in the age of disruption, Oracle, in partnership with FutureCFO, is hosting a virtual roundtable with senior finance and operations executives to share proven ways in which leaders can leverage new technologies and best practices to help you position your team and your organisation for recovery and growth after COVID-19.
Areas that will be covered at this virtual roundtable include:
Optimising finance to lead current and post-crisis strategies

Scenario planning for an evolving next normal
Time

Agenda

13:45

MEET & GREET

14:00

OPENING
Allan Tan, Group Editor-in-Chief, Cxociety

14:05

WELCOME ADDRESS
Michael Lim, Director, ERP & Digital Supply Chain, ASEAN & North Asia, Oracle

14:15

SELF-INTRODUCTIONS
by Participants

MODERATED DISCUSSION

15:20

CLOSING REMARKS
Michael Lim, Director, ERP & Digital Supply Chain, ASEAN & North Asia, Oracle

15:30

CLOSE
* Agenda is subjected to changes
This is a by-invitation-only event. You may submit your interest to join the event here. Successful registrants will receive confirmation email from Cxociety within 3 working days (exclude weekends and Public Holidays).