Virtual Roundtable: Partnering for Performance – How a Dynamic CFO-CIO Relationship can Drive Supply Chain Innovation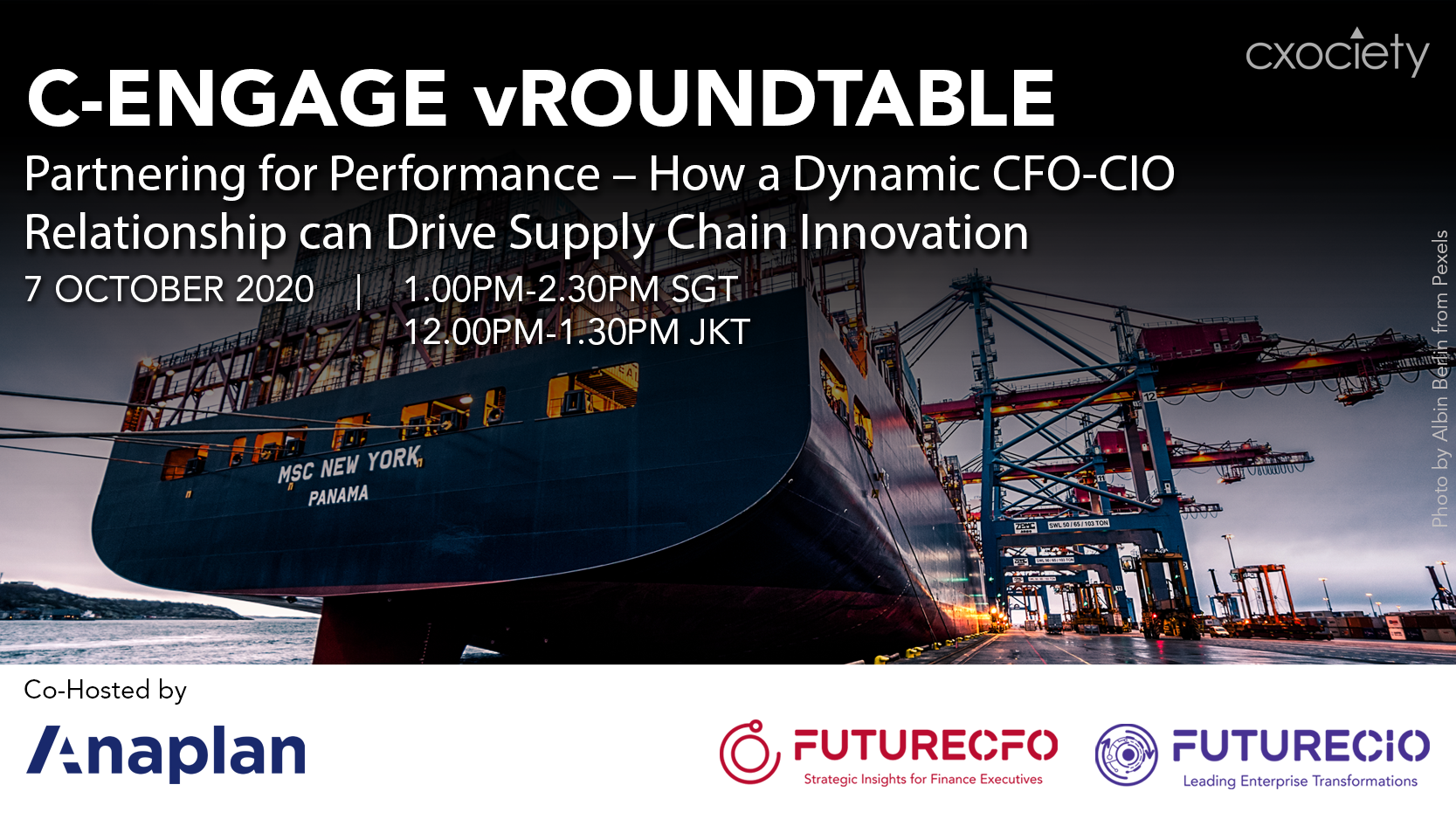 In a supply chain, a contract creates certainty and predictability by clearly articulating the parties' respective rights, roles and responsibilities. As Paul Humbert, business strategist and author writes: "The purchase of goods or services are not only expenditures of capital, but inevitably affect the organizations' revenue, cost structure and risk profile. Many such transactions involve complex internal financial considerations regarding whether to preform or provide "inhouse" or on an "outsourced basis".
As part of the product development and delivery fabric of the business, IT is accountable for ensuring that transactions are conducted in compliance with company practice and regulation, with the Chief Information Officer bearing responsibility for how information is created, processed and cycled throughout the organisation and the third party businesses that comprise the supply chain.
Companies like Alibaba, Amorepacific, China Gas, DBS and Midea Group, have shown that success means members of the supply chain working together in harmony, so too within the business, the CFO must collaborate closely with the CIO to ensure sustained profitability in good times and bad.
The pandemic of 2020 redefines crisis competitiveness to new levels for which neither CFO nor CIO are prepared. With unpredictability elevating disruption to a whole new level, it becomes apparent that nothing short of an integrated mindset will see businesses through the storm.
Welcome to "Partnering for performance – how a dynamic CFO-CIO relationship can drive supply chain innovation" a CXOCIETY roundtable discussion, co-hosted with Anaplan, on how the CFO and the CIO can co-orchestrate a sustainable digital workflow that nothing short of an integrated digital-physical mashup can secure the business' future post-crisis.
In this dialogue of peers, we will cover topics like:
How to automate foundational and transactional processes
How to identify areas to drive value and spot trends
How to increase enterprise-wide partnerships and collaboration
Time (SGT)

Agenda

12:45

VIRTUAL MEET & GREET

13:00

OPENING BY MODERATOR
Allan Tan, Group Editor-in-Chief, Cxociety

13:10

WELCOME ADDRESS BY HOST - ANAPLAN

13:20

MODERATED DISCUSSION

14:25

CLOSING REMARKS BY HOST


14:30

CLOSE
* Agenda is subjected to changes
This is a by-invitation-only event. You may submit your interest to join the event here. Successful registrants will receive confirmation email from Cxociety within 3 working days (exclude weekends and Public Holidays).
7 October 2020, Wednesday
1:00PM – 2:30PM SGT/MYT 12:00PM - 1:30PM JKT