Virtual Roundtable: Secrets to Scaling the Automation Challenge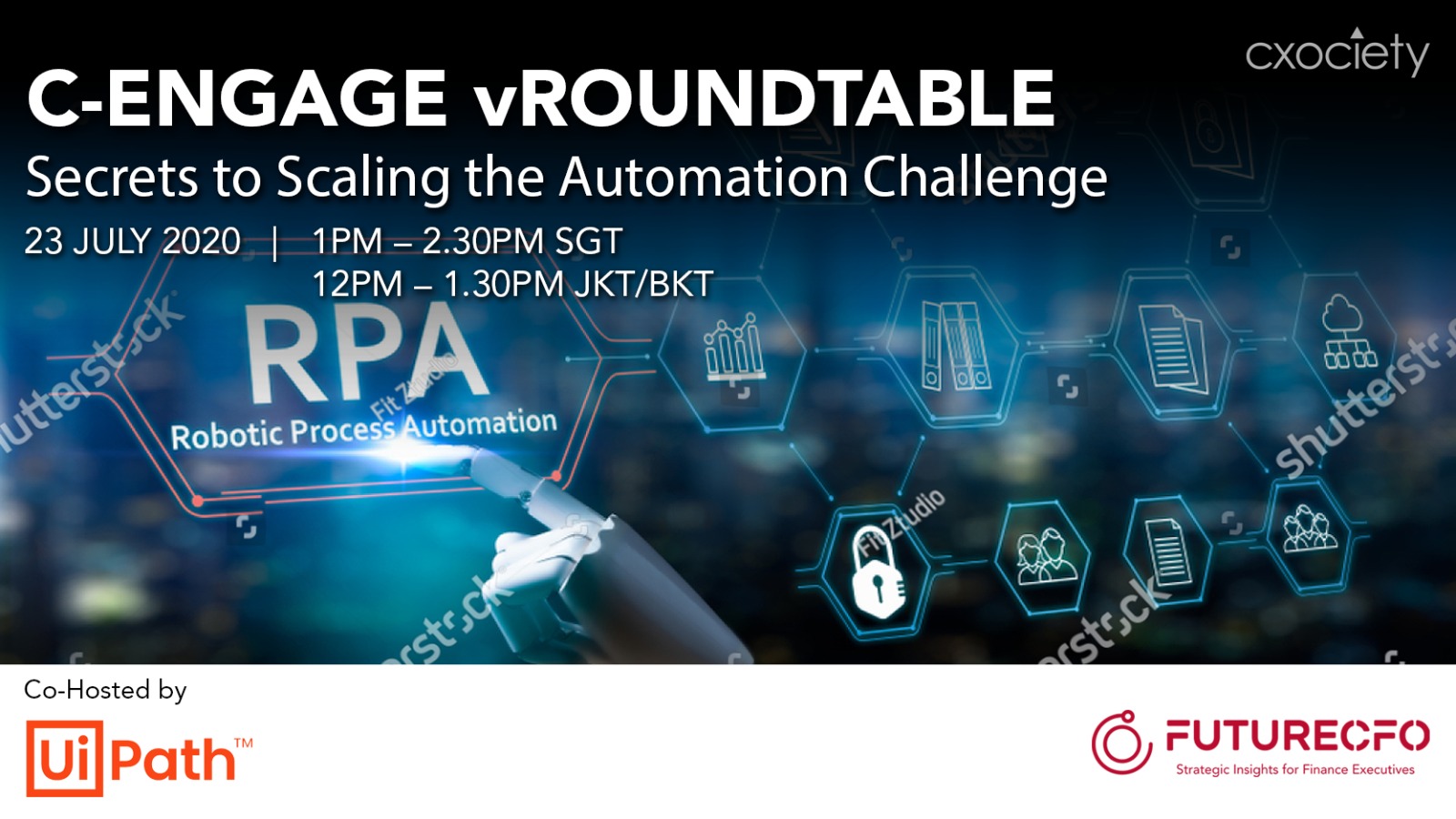 Every cloud has a silver lining – COVID-19 is no different. The compulsory Work From Home or Remote Working has given management an impetus to embrace digitised way of working applying automation to prevent work from stopping.
Having proven its value, what's next for automation or robotic process automation (RPA)?
A global survey by Deloitte revealed interest in using intelligent automation – 58% are on their automation journey. Automation is proven to support processing unstructured data, predictive analytics, predictive maintenance, radical personalisation, trend/anomaly detection, strategic and real-time optimisation, and forecasting. What's next?
One word: SCALING.
CXOCIETY in partnership with UiPath will hold an exclusive by-invitation only roundtable discussion on how to cover scaling – voiced by 92% of surveyed executives by Deloitte. We will also answer the solution to adjacent problems like process fragmentation and IT readiness – identified as barriers to intelligent automation.
Automation is the engine that will power an organisation's transformation. But only through solving the hurdles can an organisation truly transformation.
TOPICS TO COVER:
Scaling challenges
Benefits that come as a result of scaling (beyond just scaling)
Time (SGT)

Agenda

12:45

VIRTUAL MEET & GREET

13:00

OPENING BY MODERATOR
Allan Tan, Group Editor-in-Chief, Cxociety

13:05

WELCOME ADDRESS BY HOSTS
Vel Kanniappan, APAC Finance Leader, UiPath
David Neo, VP, Presales APAC, UiPath

13:15

SELF-INTRODUCTIONS
by Participants

MODERATED DISCUSSION

14:25

CLOSING REMARKS
Allan Tan, Group Editor-in-Chief, Cxociety

14:30

CLOSE
* Agenda is subjected to changes
This is a by-invitation-only event. You may submit your interest to join the event here. Successful registrants will receive confirmation email from Cxociety within 3 working days (exclude weekends and Public Holidays).
1:00PM – 2:30PM SGT (12:00PM - 01:30PM THT)