Virtual Roundtable: To Engage and to Protect: Framework for Automating Data Privacy & Protection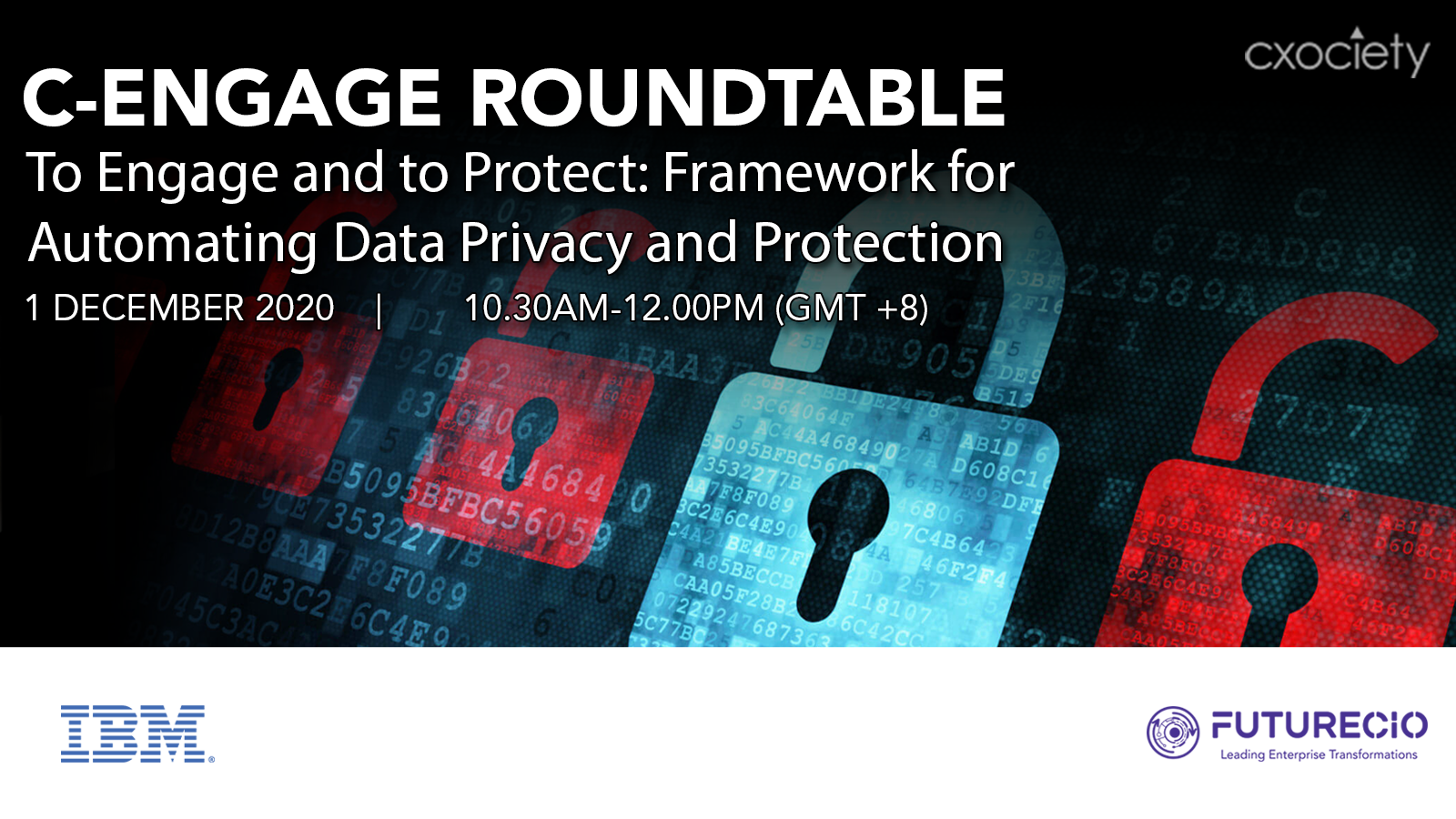 The overriding mandate of digital transformation is becoming customer obsessed. Forrester predicts that every company will double down on technology-fuelled experiences, operations, products and ecosystem. But in our quest to deepen engagement, are enterprises putting as much effort on protecting the customer's privacy? Ponemon Institute estimates the average cost of a data breach in the ASEAN region at $3.85M SGD which has increased 8.2% from 2019.
With 2.5 quintillion bytes of data created daily, it is predicted that 27% of enterprises globally will experience a data breach in the next two years. So how do you engage and protect your customer when 50% of security risks may actually come from having multiple, disparate solutions.
Gartner reminds us that cloud infrastructures – SaaS, PaaS and IaaS – are secure and reliable. It is our use of cloud control, visibility and auditing processes – that may need a closer review.
On 1 December 2020, CXOCIETY in partnership with IBM will host a roundtable discussion on "To engage and to protect: framework for automating data privacy & protection". Topics to be covered at the event include:
How to build a framework that adapts to changing regulation
Treating PDPA as a catalyst for a holistic data security program
How to engage and protect customers without overwhelming your organization (not just IT and security staff, but everyone because data protection is everyone's concern)
Join us this 1st December and start your path towards a modern, prescriptive approach to securing the enterprise, with practical building blocks of a successful Zero Trust implementation roadmap.
Time

Agenda

10:15

VIRTUAL MEET & GREET


10:30

Opening by Moderator
Allan Tan, Group Editor-in-Chief, CXOCIETY

10:35

Welcome Address by Host - IBM
Derek Tay, Security Software Sales Leader, IBM ASEAN

10:45

Self-Introductions
by Participants Moderated Discussion

11:55

Closing Remarks
Derek Tay, Security Software Sales Leader, IBM ASEAN

12:00

CLOSE
* Agenda is subjected to changes
To RSVP for this event, please fill in the form below:
10:30AM – 12:00PM (GMT +8)