Webinar: Building a Digital Operations Platform for Resilience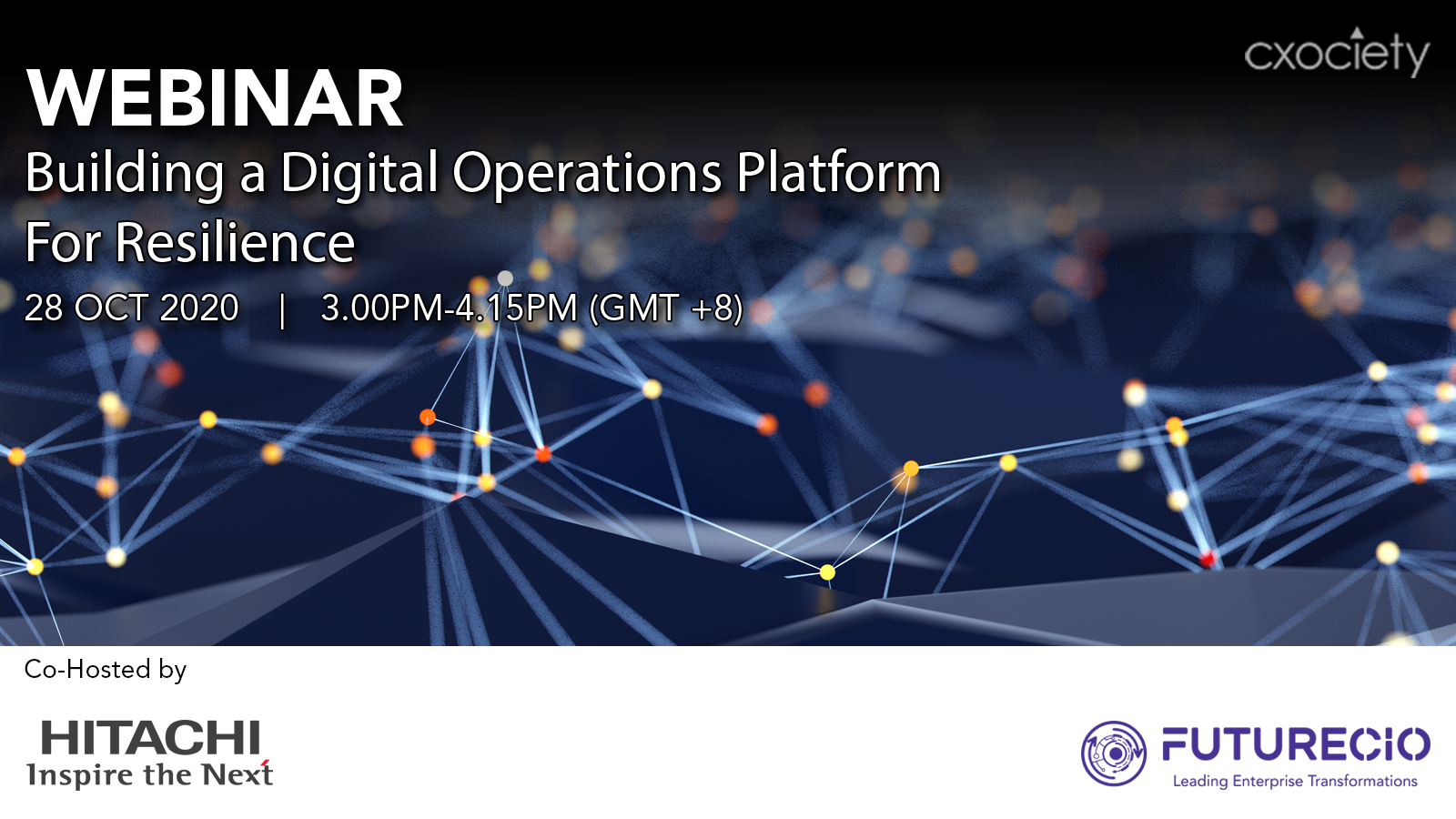 ---
As enterprises in Asia get onboard this new state of normalcy (whatever it is), functional leaders across the enterprise are being led towards one direction: streamline operations, reduce cost, and plan for and move with uncertainty.
Furthermore as the focus shifts from recovery to renewal, functional leaders will need to re-evaluate how technology can help them prepare their organisations by building digital operating platforms (way of work) with resilience as a requisite.
Those who understand how disruption affects enterprise strategic and operational decisions can make powerful changes to prepare their own teams to act on the risk and opportunities that come from volatility.
CXOCIETY, in partnership with Hitachi Vantara, is organising a discovery platform – a functional-level discussion on the role of technology in the new business transformation paradigm.
Topics to be covered include:
Discover what version of ERP is right for your business' near-term, mid-term and long-term goals
Develop a working guide/blueprint to ERP cloud transformation
Getting the most from your ERP with best-of-breed solutions
Join us this 28th October on what we expect to be an engaging, no-holds-bar unearthing of what it takes to build a digital operations platform for resilience.
Time

Agenda

15:00

Welcome Remarks
Allan Tan, Group Editor-in-Chief, CXOCIETY

15:05

Opening Address
Lagnajit Patnaik, Head of S/4HANA Presales and Centre of Excellence, SAP APJ

15:15

Fireside Chat: Creating A Future-Proof Integration Strategy for Your Enterprise Core
Guest speaker: Rajan K. Upadhyay, Head of Digital Lab, Cyberjaya, DHL

15:30

Keynote Session
Abhishek Nigam, Sales Enablement Manager, HITACHI VANTARA

15:40

Panel Discussion: Building a Digital Operations Platform for Resilience Moderator:
Allan Tan, Group Editor-in-Chief, CXOCIETY Panellists:
David Payne, Head of Enterprise Applications and Database Segment, APAC, AWS
Rajan K. Upadhyay, Head of Digital Lab, Cyberjaya, DHL
Abhishek Nigam, Sales Enablement Manager, HITACHI VANTARA
Lagnajit Patnaik, Head of S/4HANA Presales and Centre of Excellence, SAP APJ
Goh Yin Shian, Finance Director, TECKWAH INDUSTRIAL CORPORATION

16:10

Closing Remarks
Abhishek Nigam, Sales Enablement Manager, HITACHI VANTARA

16:15

CLOSE
* Agenda is subjected to changes
To RSVP for this event, please fill in the form below:
28 October 2020, Wednesday