Webinar: Enabling Seamless Payment Workflows in the Age of Business Unusual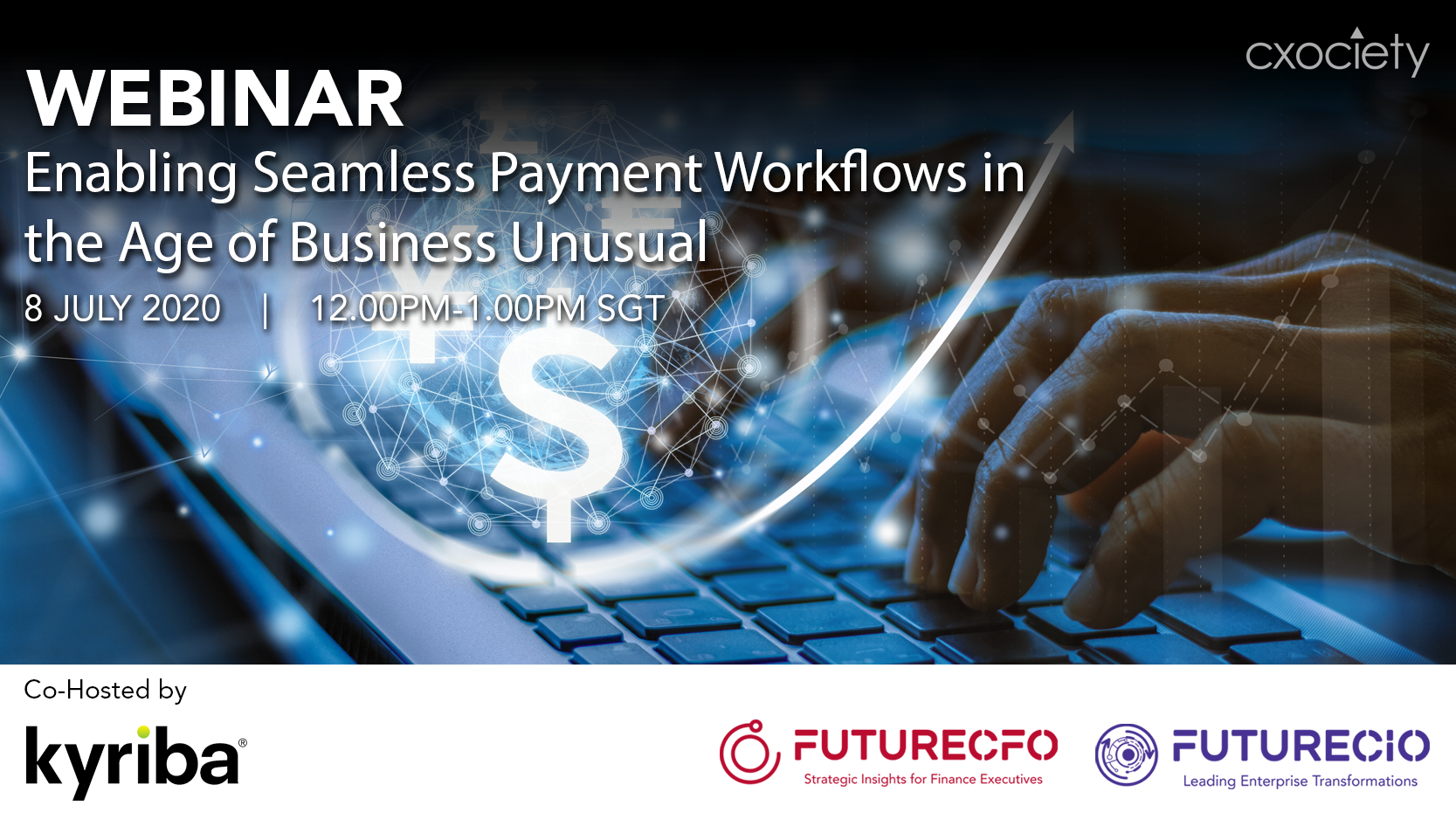 Payments has been at the forefront of Fintech innovation. The ability to move monies to anywhere, at any time, and at the lowest cost is said to benefit consumers and economies. But frictionless payment workflows is a distant reality in the corporate world.
And with "business unusual" calling for organisations to further cut cost by ramping up efficiencies, IT is left holding the ball to make "business as usual" happen despite COVID-19 and all its implications.
COVID-19 has had one positive impact, it is accelerating the digitalization of commerce. Whatever name you give it – the internet, cloud, mobile – these technologies are enabling the buying and selling of goods worldwide.
But behind this simple idea of e-commerce belies a complexity that overwhelms even the most seasoned CIO. Companies that do business internationally maintain payment workflows spread across multiple systems, ERPs and banking platforms.
Without an automated system, additional staff is needed to check each transaction manually to ensure they are correct from origin to destination, a time-consuming and unsatisfying work.  Transactions are often initiated by one team and payments approved by others with disparate authorities without any central oversight.
While new practices are calling for work to be done in an efficient and timely manner, organisations still go through inefficient and lengthy processes to achieve their payment obligations.
All these translate into unintended complexities that are tolerated in the name of business first, opening opportunities for errors, fraud and cybercrime. CFOs and CIOs can work together to take a more strategic approach towards payments by looking at areas of bank connectivity, bank formats, and fraud detection.
On Wednesday, July 8, 2020, CXOCIETY in partnership with Kyriba is organising a webinar, Enabling Seamless Payment Workflows in the Age of Business Unusual, to discuss an approach purpose-built to simplify payments process, reduce complexity and mitigate the risks that come with doing business internationally.
To make this event more interactive and rewarding, we will be joined by a panel of senior technology and finance leaders to share their views, challenges and experiences around global commerce and facilitate seamless international payments.
Time

Agenda

12:00

Introduction
Allan Tan, Group Editor-in-Chief, CXOCIETY

12:05

Welcome Address
Steven Otwell, Director of Payments, KYRIBA

12:10

Combating Payment Fraud during COVID-19
Feb and Mar 2020 saw a 667% increase in payment fraud. Business and consumers may be benefiting from cloud during the COVID-19 lockdown but it has also revealed even more holes in protecting businesses and consumers from the risks of fraud. Steven Otwell, Director of Payments, Kyriba, walks through the latest fraud trends and offers strategies for curtailing fraud during and post COVID-19.

12:25

Fireside Chat
Interviewer:
Allan Tan, Group Editor-in-Chief, CXOCIETY

Interviewees:
Achmad Zaidan Nadjib, Manager, Global Business Solutions, BW MARITIME
Steven Otwell, Director of Payments, KYRIBA
Goh Yin Shian, Finance Director, TECKWAH INDUSTRIAL CORPORATION

12:55

CLOSING REMARKS
Allan Tan, Group Editor-in-Chief, CXOCIETY

13:00

CLOSE
* Agenda is subjected to changes
To RSVP for this event, please fill in the form below: