Webinar: Telecommunications in the Digital Age of CX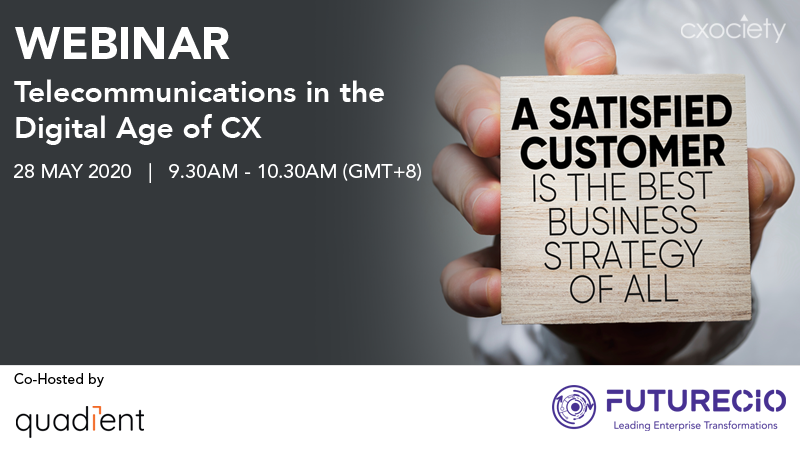 Telcos increasingly find themselves under the consumer microscope as they enable this connected world. In the digital age that demands instant service gratification, consumers have high expectations and telcos must deliver to keep customer satisfaction high and churn low.
Traditionally, the telco industry has operated like an oligopoly. This has stifled the incentive for telcos to maintain strong customer experience (CX) frameworks and perpetuate the notion of industry-wide weakness regarding CX. However, an increase in sub-sector competitiveness and rising consumer expectations have enabled CX to emerge as a key facet within the overall competitive telco landscape.
Service provisioning and pricing are still integral in forging and maintaining a telco-to-consumer relationship. However, customers are giving CX increasingly more weight when deciding to switch or remain with a provider.
As customer retention is cheaper than acquisition, CX is integral to the business viability of telcos as it greatly impacts churn rate. According to Forrester, winning a new customer is at least five times costlier than retaining one.
Furthermore, as telcos often deliver several different communications products, effective CX in one or multiple service streams will increase the likelihood of a customer expanding their purchased services thus deepening loyalty to the provider. Loyal customers are five times as likely to repurchase, five times as likely to forgive, seven times as likely to try a new offering, and four times as likely to refer.
FutureCIO in partnership with Quadient would like to invite you to a rare event in the telecommunications industry. An opportunity not only to discover what you are missing in your customer engagement strategy, but to listen to someone who has been there, done that, and continues to walk the talk of customer engagement – in the telecommunications sector of Asia.
On 28th May 2020, we will host an interactive webinar that will answer the following:
Customer communications management – the missing link
What you are doing right and wrong with your customer communication strategy
Practical tips on improving/accelerating your customer engagement programmes
Time

Agenda

09:30

INTRODUCTION
Allan Tan, Editor-in-Chief, FUTURECIO

09:35

KEYNOTE PRESENTATION
John Hoggard, Principal, Global Utilities & Telco Markets, QUADIENT

09:50

PANEL DISCUSSION
• The Forrester report, Hardwire Customer Experience to Telco Financial Performance (Oct 2019), shows growing revenue as the top priority of the industry. But it also reveals the close-linkage between revenue, customer experience (CX) and product innovation.
• Customer experience is a key differentiator but how can telcos deliver an optimized, personal customer experience while monetise customer engagement?



Moderator:
Allan Tan, Editor-in-Chief, FUTURECIO

Panellists:
Samuel Hui, Co-Owner and Chief Transformation Officer, HKBN
Nathan Bell, Chief Digital Officer, M1 SINGAPORE
Jonas Berglund, Director of Services, APAC, QUADIENT


10:20

CLOSING REMARKS
Allan Tan, Editor-in-Chief, FUTURECIO

10:30

END OF EVENT
* Agenda is subjected to changes
To RSVP for this event, please fill in the form below: