Webinar: What You Need to Know Before Jumping into the Cloud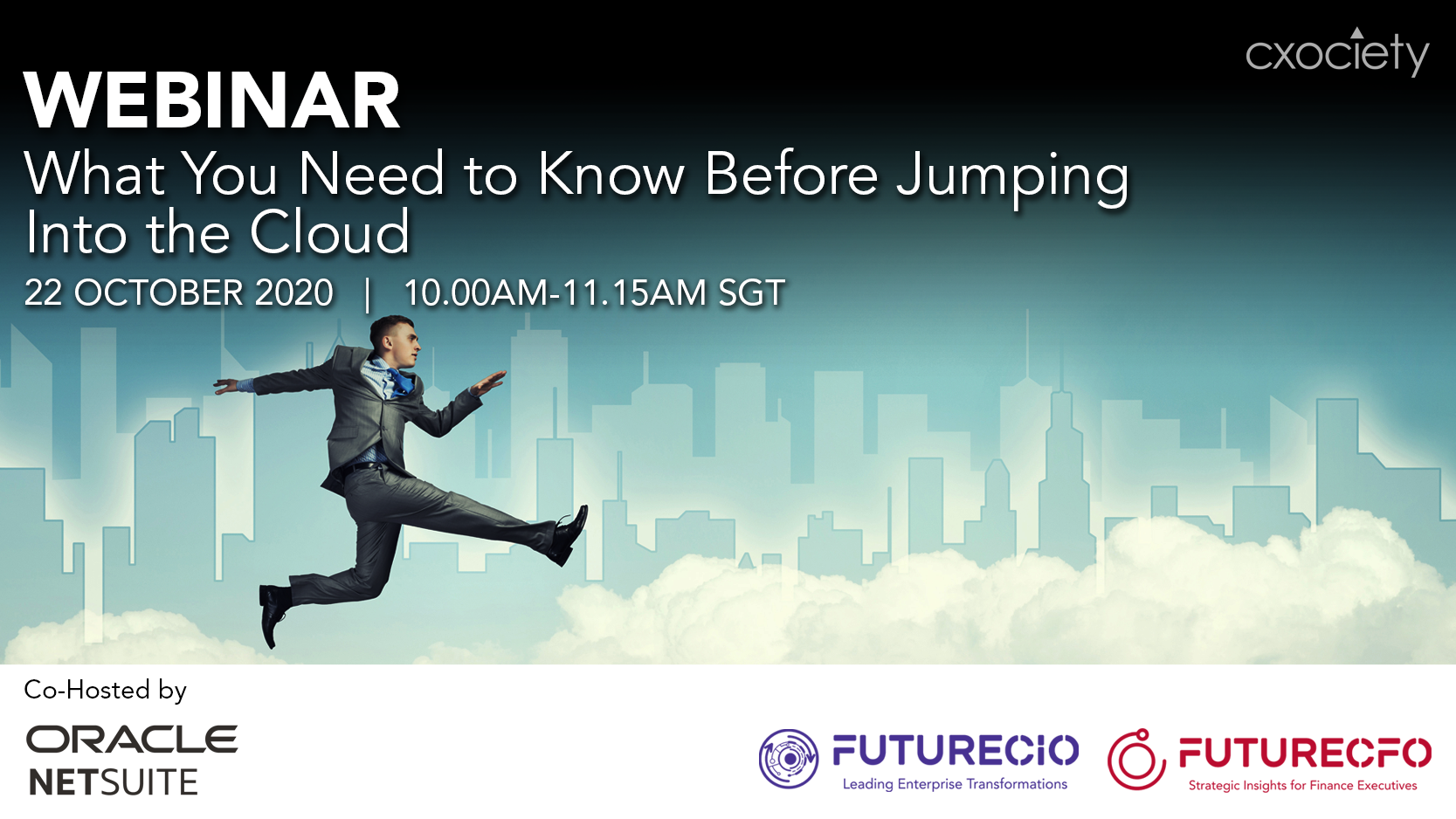 Many more companies are now moving massive amounts of ERP data into cloud storage. The ERP market in Asia Pacific will reach US$9.77 billion by 2020. ERP improves 95% of businesses that implement it.
Having access to a company's ERP from anywhere is now the number one reason cloud ERP is being adopted. Cloud ERP gives better security of data, so it is not as risky as people think. It is also easier to manage and lowers costs.
Those are the good news. Now for some not-so-good news.
All ERP software are not created equal. Many ERP software out there claim to be built for the cloud. Sadly, that is not the case as very few are built for the cloud on day one, but even fewer are battle-tested for the complexities of operating in the cloud.
CXOCIETY dialogues with CFOs and CIOs reveal that leaders recognise the value of technology to drive business transformation. However there remains concerns about getting from proof-of-concepts and demos, to working models that support scale and business process complexity.
FutureCFO and FutureCIO, in partnership with Oracle NetSuite, would like to invite you to a discussion on what works and what does not when it comes to running a business supported by a cloud-based ERP system.
Titled, "What you need to know before jumping into the cloud", this webinar will cover the following topics:
Process considerations when evaluating suitability to ERP automation
Integrating bespoke applications to the core ERP system
Tips and tricks to enhancing ERP performance in the cloud
Securing the ERP ecosystem – data and application
Time

Agenda

10:00

Introduction
Allan Tan, Group Editor-in-Chief, CXOCIETY

10:10

Opening Remarks
Peter Quek, General Manager, ASEAN, ORACLE NETSUITE

10:15

Fireside Chat with Guest Speakers Interviewer:
Allan Tan, Group Editor-in-Chief, CXOCIETY Interviewee:
Srinivasan Venkita Padmanabhan, President (Finance) & Global Head, OLAM GROUP

10:55

Q&A


11:10

CLOSING REMARKS
Allan Tan, Group Editor-in-Chief, CXOCIETY

11:15

CLOSE
* Agenda is subjected to changes
To RSVP for this event, please fill in the form below:
22 October 2020, Thursday
10.00AM – 11:15AM SGT/PHT